MINNEAPOLIS — Minneapolis City SC suffered its sixth-straight and the ninth-overall defeat of its inaugural League Two season, losing 2-1 to the visiting Thunder Bay Chill. This recap's themes will be familiar to any readers that have followed the Crows in 2022.
As in all-but-one League Two contest this season, City conceded first. On Wednesday at Edor Nelson Field, it was Andrea De Vincenzi opening scoring in the eighth minute.
The method of concession was also familiar, as the hosts scored off the end of counterattack sprung from a Crows' turnover.
That the visitors, playing their fourth road game in just six days, would be looking to defend from their own half while trying to catch Minneapolis on the break, was, per USL2 head coach Matt VanBenschoten, also familiar to Crows coming in to the evening.
"It takes us a little while to shift into gear, and that's been our downfall this season," said captain Aiden O'Driscoll. "It seems like all season has been one clawing-our-way-back-in and we still haven't dug ourselves out.
"[Thunder Bay] did really well — to be fair to them — to hang onto that lead, given how much soccer they've played in the last week. But again, it's our defensive lapses that end up biting us in the ass."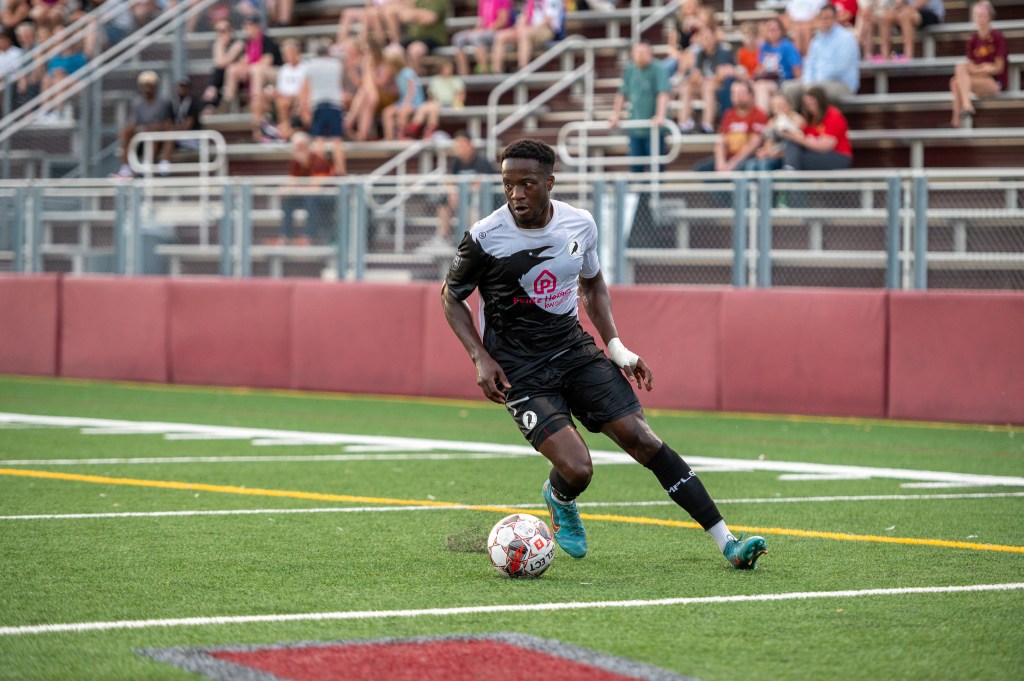 Following De Vincezni's score, VanBenschoten tinkered with the positioning of players across his defense to try and contain the Chill, who made use of speed up top to take control of the game's first half hour. Through some combination of the efficacy of those adjustments and the onset of weary legs for Thunder Bay, the Crows grew into the game and took back the run of play ahead of halftime.
In the second half, down only a goal, the Crows pressed the initiative. They would go on to outshoot Thunder Bay 12-4 on the evening.
"It gets frustrating when we can't finish, you know? We're doing the work in the midfield, just in the final third, we can't put the ball in the net," said forward Loïc Mesanvi.
Still searching for a goal of its own, City conceded again in the 86th minute when second-half substitute Daniel Bricker side-footed an end-line cutback from Edoardo Righetti.
"We can't concede that goal," said USL2 head coach Matt VanBenschoten, making use of brevity for emphasis.
As with other losses suffered by the late-starting Crows, there was late life. As with other losses, City continued to battle to the final whistle. In a repeat from a week ago, Wednesday, Minneapolis would score in added time to pull within a goal of its opponent.
In the 91st minute, Mesanvi made use of a deft scoop to softly loop the ball between two Thunder Bay defenders and on to the end of a short, diagonal run by Sidney Tume. The latter blasted a waist-high volley taken from inside the Chill's penalty area into the back of the net, bringing the game within a goal.
Four more white-knuckled minutes would pass along with a few more scoring chances for the Crows, but again, there was no joy at the sounding of the final whistle in the City of Lakes.
It left the Crows with one final chance to tally a league win ahead of the close of their League Two season, when St. Croix SC come to Edor Nelson Field on Friday, July 15.
VanBenschoten, O'Driscoll and Mesanvi agreed doing so was important as a thank you to City fans that have stuck with the Crows through a summer that has not met the club's or supporters' expectations.
"We love our fans," Mesanvi said. "As long as they keep coming and supporting us, we're gonna keep pushing."
For VanBenschoten, a win could also be used as a stepping stone into the off-season, as the club regroups.
For O'Driscoll, it was also about pride:
"For ourselves, as well. It's tiring when results aren't going your way, physically and mentally. To go out on a win, it would be good."
In Other Action
The NPSL Crows fell 3-2 at Dakota Fusion on Wednesday evening in Moorhead, Minn. in horribly-unlucky fashion, notching a pair of first-half own goals off deflections just two minutes apart from one another. The night's result, combined with City's May 27 defeat when the two teams met prior, secured the head-to-head conference-standings tie breaker in the Fusion's favor. With two games left to play for both teams, Minneapolis will need to pick up three points on Dakota in order to avoid finishing lower than third place in the North Conference table for the first time in club history.
The Fusion play away to last-place La Crosse Aris on Saturday before hosting a Minnesota TwinStars side that was most-recently battered 8-1 by first-place Med City FC. Meanwhile, the Crows will host cross-metro opponent Joy Athletic in their home finale on Saturday before finishing their NPSL season away to Aris.
"It's hard enough, in general, to recover when you score on yourself, twice," said NPSL head coach Marco Campoverde. "In the context of the game, where Fusion is very motivated, knowing they can overtake us in the standings with a win, for the game to go from 1-1 to 3-1, it allows them to sit in. Every time we put them under pressure, they were more than content to kick the ball as far away as possible."
Last week, Campoverde said he expected the Fusion to pose a challenge for the Crows, and with Dakota in fine form, fresh off a win against playoff-bound Duluth FC, that expectation was proven accurate. Bringing a two-game winning streak of its own into the contest, the manner of defeat, in particular, stalled the momentum Minneapolis had hoped to carry through the end of a 2022 season that has not lived up to the club's standards.
City's first own goal of the evening was deflected in by Mu Thoo as the forward was struck by a 31st-minute free kick while fighting through contact to regain position on his mark. In the 33rd minute, holding midfielder Andrew Soczynski was caught wrong-footed, facing goal, by a low cross while sprinting to take away a trailing Fusion attacker during a Dakota counter, and sent the ball past keeper Troy Louwagie.
The first half was a microcosm of a City season that has seen encouraging moments negated by disheartening ones. Thoo and Soczynski, the Crows tagged with own goals, had just-previously combined to produce a lovely 28th-minute goal for Minneapolis. Carrying the ball on a 50-yard run through the Fusion's ranks, Soczynski cut the ball back for Thoo. Keeper Jamie Colvill was left with no chance of reaching a shot Thoo drove inside the post and into the side netting.
After halftime, former college teammates Cole Schwartz and Matthew Gibbons linked up for a 66th minute goal when Gibbons sprung Schwartz in behind the Dakota back line for a composed finished. The assist came in Gibbons' first appearance for the Crows. But additional scoring chances proved difficult to come by as the Fusion were largely successful defending from a low block.
Time expired before Minneapolis could find an equalizing goal. And where, in-game, two self-inflicted goals felt like a gut-punch, afterwards, they left indignation.
"We are champing at the bit to get back playing," said Campoverde. "The guys are optimistic because our second half against Fusion was much better than the first. And, no one in this organization needs to get motivated to play Joy. A lot of those guys are friends and have played with each other when they were younger. So, we are all just very anxious to get back on the field, Saturday, and back playing, again."