by Ian Katan

MINNEAPOLIS — With a defender tight to his shoulder all game, space in which to operate was at a premium. But for Minneapolis City Futures forward Carter Hermanson, limited space is still plenty to work with. Aware of his marker's preference to stay close and leave open turf behind, Hermanson broke into a sprint. Bending his run towards the sideline and past the defender could create a chance for his
team to take the lead. In the early July UPSL Midwest West Conference Playoff Final against rival St. Croix Legends II, any chance was worth taking.
"The whole year, we were talking about rotation and making those runs, getting those cues from the center back," Hermanson remembered. "I made eye contact with Rigo [Arellano], I was like, 'Alright, he's gonna play it over the top.'"
Arellano's long ball was weighted perfectly to intersect with Hermanson's run, but the latter's route to goal had been blocked off by a recovering defender. "After the first bounce, I saw it had a lot of spin on it," said Hermanson. "I knew it would backspin to the left. And so I stopped and I got around to the other side, and I read it better than he did."
The ball bounced into Hermanson's chest and fell perfectly into stride. As distance between striker and ball shrunk rapidly, the forward had to find a way to slip a shot past an onrushing goalkeeper.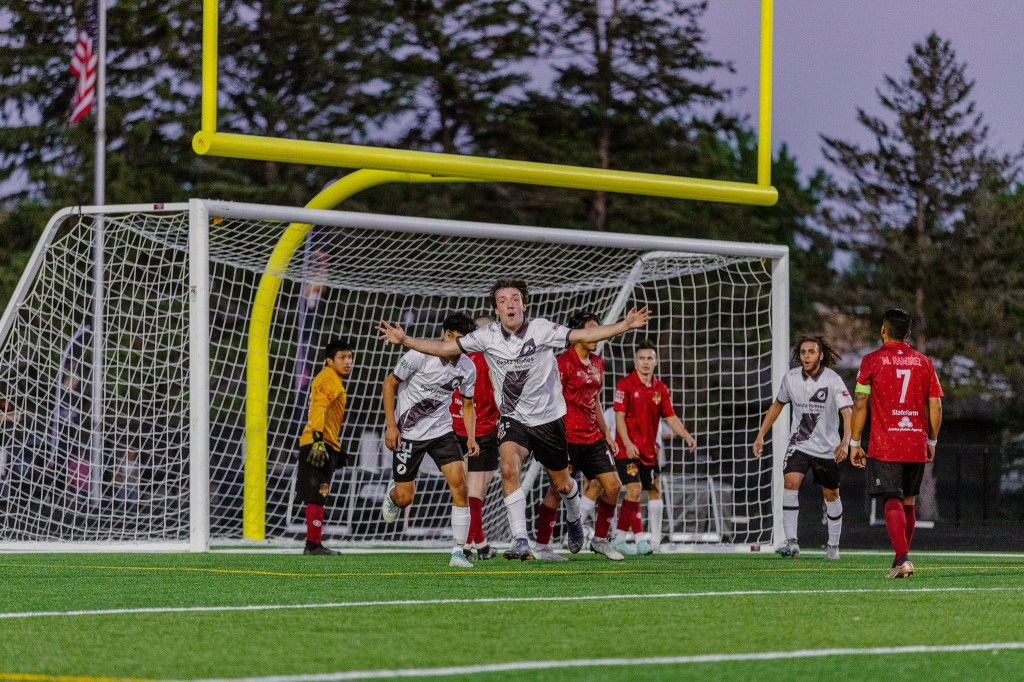 If someone were to watch Hermanson's intelligently-bent run to stay onside, or cool head to watch the spin of the ball, they'd likely assume he'd been a forward all his life, practicing thesectypes of breakaways for years. But Hermanson's journey began in a different way. "I actually started off playing center back," he smiled. For the first 13 years of his career, instead of putting shots in the back of the net, the future-Futures forward tried his best to prevent them. But perhaps hinting that his true calling was in attack, he struggled to find defensive success. "I wasn't having a lot of fun," he said. "I was too slow. I would try and step up every time, like a chicken with my head cut off. And then they'd run by me every time."
Though switching to a new position with unfamiliar tactics and responsibilities posed a steep learning curve, Hermanson was hooked. "You get that first little taste of success when you score, and it gets kind of addicting." By the time he made the Academy of Holy Angels' varsity team as a freshman, his focus had changed from chasing that goalscoring rush, to making sure that no matter whether or not he
found the net, his hard work was helping his team. "I don't really care too much about goals and assists, as long as we get the result and I'm helping in a positive way," Hermanson said.
Watching Hermanson bear down on goal in the Future's final against St. Croix II, one might also assume that soccer had been his sole focus growing up. But this doesn't tell the full story, either. "When I was younger, I always treated [club soccer] as a second sport to hockey," he said. Playing two sports and excelling at both, Hermanson's soccer accolades included Gatorade's Minnesota Player of the Year, Class AA Mr. Soccer, and Holy Angels all-time leading scorer. And, he received offers to play junior hockey following his graduation. It wasn't until his senior year of high school that Hermanson decided to focus exclusively on soccer."
"Though by that time, he had integrated skills from both sports into his game. "I definitely picked up some stuff from hockey. You always gotta keep moving in the space. Especially along the back line, you're trying to find little pockets of space to get a shot off," Hermanson explained. "When somebody shoots it, you never know where the ball or puck is gonna go. You just gotta crash the net… and you go to the net, good things happen. It's translated well into soccer."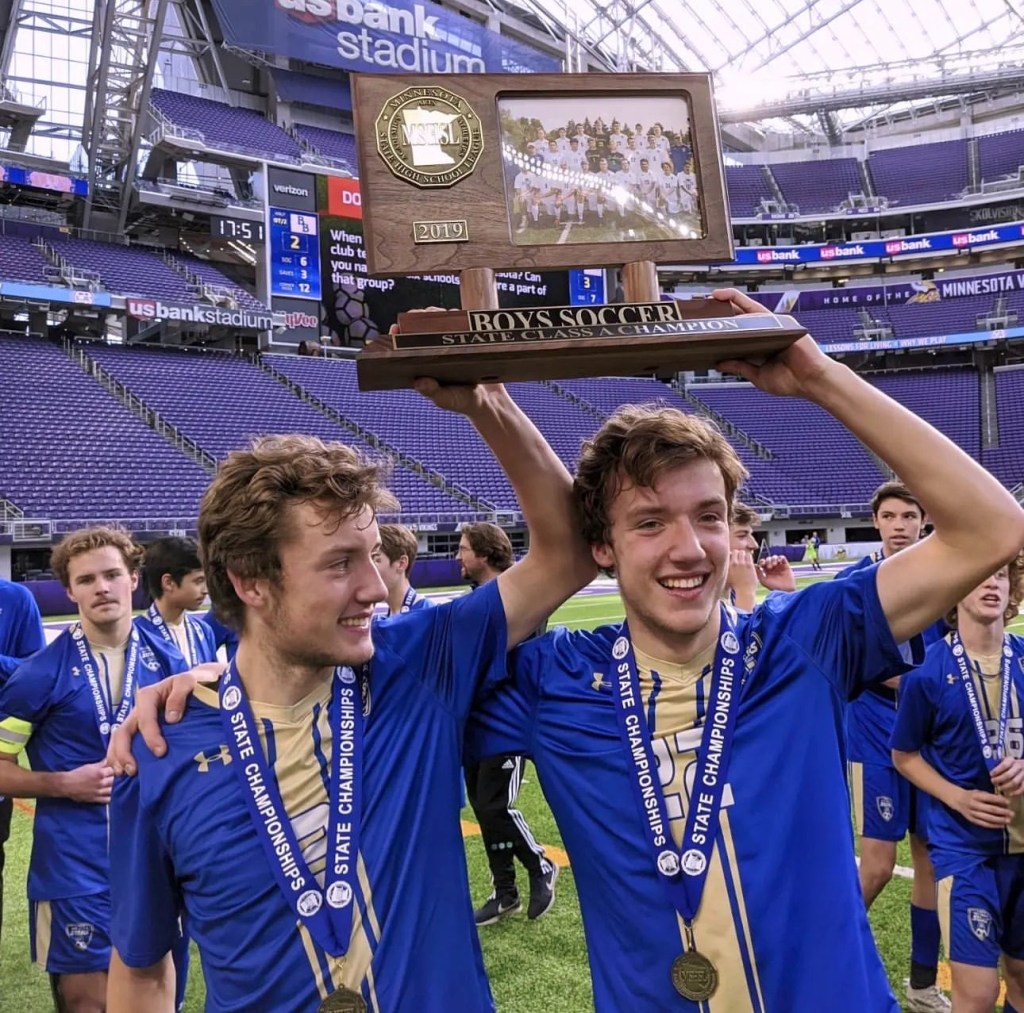 Whether beating defenders with a stepover or a toe drag, learning to read his marker and stay one step ahead was crucial. "You always want to have some sort of understanding of what a defender wants to do," Hermanson elaborated, drawing on years of experience as a center back, himself. "[Defenders] obviously want to push you to your weak foot, so now you've got to work on your weak foot. Or they really want to step up, so now you've got to be aware for a potential offside trap… Playing center back, even though it was at a lot younger level, definitely helped me as a forward."
Due to injury last summer, Hermanson was forced to work on his weaker right foot after tearing his left meniscus, ahead of his first season with the Futures. "I was scared to use my left foot, which is my dominant foot. I kept finding myself in positions to shoot with my left foot that were
more or less instinctive, and then you freeze up right before you're gonna shoot," he explained. Fortunately, there was a silver lining. "It really helped my right foot. I had to use it, like, 10- times more."
The injury forced him to miss much of the Futures' 2022 campaign, but he recovered in time to record two goals and seven assists during his first collegiate season at St. Johns. Hermanson returned to Minneapolis City this summer, eager to make up for lost time.
"I felt like I couldn't really show them that I was good enough for this team," Hermanson said. "Being able to come back and get another chance to prove to them that they made the right decision having me on the team last year, and [that] I can contribute, was massive." And contribute, he did. Nine goals topped the UPSL Midwest West Division goalscoring charts, and earned him a spot on the division's First Team.
Drawing on years of practice, from firing off quick shots under pressure, to crashing the net in hockey, to a strengthened right foot, to reading where open space was, Hermanson was a challenge to stop. To the roster of skills honed over years of hard work, he also brings a natural affability to his play — perhaps soccer's equivalent of a gregarious first baseman. "I like to talk to the other team center backs a lot," he laughed. "I just try and chat… It's kind of amusing for me. You just, kind of, make some friends out there. But as soon as the ball comes, they're not your friend anymore. You're going out there, you're going to try and get past them and score."
"Sometimes you just want to be so friendly to them that they don't want to hit you as hard," he joked. "Or maybe you get them to lull to sleep a little bit."
On that July evening against St. Croix, whether or not it was one of these casual mid-game chats that caused the defender to lose focus, Hermanson saw his chance and took it. Racing towards goal, he had read the spin of the bouncing ball and predicted the defender's misstep. Instinct took over, formed from countless repetitions in front of goal, hours dedicated to improving his right foot after his injury, and a first-hand understanding of a defender's movements.
Reaching the ball inches before the goalkeeper smothered the opportunity, Hermanson scooped his shot upwards, turning his run to celebrate before the ball even hit the net. Spurred on by the smart finish, the Futures would go on to win the final, advancing to the UPSL National Playoffs for the second year in a row.
"I was able to keep running full speed around him and just flick it over the goalie's left hand," Hermanson said. "That was probably my favorite goal of the year."
Even reflecting on a moment of individual class, the goalscorer still made time to acknowledge the support of his teammates. "Everyone just played so well that game," Hermanson said. "All these guys are so, so, so talented. They know where I'm gonna be, and they're able to be threatening from so far out that it just creates more space for me to operate.
"We think we can make runs in national tournaments, there's no doubt in my mind that we can. I don't think I'd ever been more proud of that team." Encouraged by both his individual success and the team's accomplishments in winning consecutive conference titles, Hermanson had every right to feel confident.
"This year," he said, "it really just cemented why I love playing at City."