SAINT PAUL, Minn. — Ripping off three-straight conference titles between 2018 and 2021 in its former league — including an undefeated 2018 regular-season — Minneapolis City SC and its supporters became accustomed to winning. Last year's League Two debut proved a rude awakening, as the Crows managed a 1-9-2 record and needed their final game of 2022 to avoid the ignominy of a winless season.
Entering this weekend's Canadian road trip, the Crows had only matched last year's points-total of five. Two games, three days and over 20 hours in a bus later, City will have returned to Minneapolis with an additional four points, earned in impressive fashion, via away-games against a pair of top-three Deep North Division sides.
Facing FC Manitoba on Sunday, after drawing at Thunder Bay the previous Friday, a 72nd-minute penalty kick from the left foot of forward Hakeem Morgan gave Minneapolis the game's first lead.
"I've been practicing in Costa Rica for the last three years. At St. Olaf, I stay after practice every day, and work on set pieces," said Morgan. "I take set pieces with a lot of seriousness, and the amount of work I put in, I wouldn't say there's any pressure in the game.
"It's choosing a side and sticking to that side. If I miss, I miss… Be sure that I connect with the ball the right way, and as you saw, it went in."
It seemed like all-three points had been secured when Morgan's college teammate at St. Olaf, winger Shea Bechtel, scored from a 90th minute counterattack, doubling City's lead. Confidence of a victory was high entering added-time, especially given City's man-advantage. Manitoba's Daniel Lopez had previously been sent off after collecting his second yellow for the foul that provided Morgan with the latter's goal.
"The nervy part was when they got their penalty kick called in the box," said coach Peter Rivard. "It was, probably, relatively soft, in terms of the scope of the game. But keep in mind, they had given us one, earlier, so you've got to kind of expect it might come at some point.
"When they scored that, then it got nervy. But, we were able to see it out. There wasn't a lot of time left."
Weathering a last-ditch effort from the hosts, City saw to it Diego Reveco's 93rd-minute penalty was the only goal it conceded on the afternoon.
Economics dictate City's now-annual road trip that loops through two Canadian provinces and back to the Twin Cities. Making a long weekend of it cuts down the need for bus rental from four to three days. And given the success of both Thunder Bay and Manitoba this season, this year's trip looked daunting.
Battling through the fatigue of travel and a less-than 48-hour turnaround between games, the weekend's results, punctuated by the season's second victory, have put wind back in the club's sails. The team broke its postgame huddle with a cheer of "four points!" ahead of a raucous sideline-celebration.
"Every-single guy that came on the trip played, bar one because of injury," said Rivard. "Everyone contributed. We had Faydane [Ouro-Akondo] on the field, today, at right back. [Goalkeeeper] Kaelen [Matacastillo] hopped on the field [at forward] to help us see it out out, late in the game, to sub in for Hakeem, so we could chew some time. Everybody contributed."
Rivard said the team tailored its tactics on the road trip to account for tired legs, putting an extra onus on decision-making in the attack. The primary focus was on possession, making sure that if players were unable to advance the ball, they circulated it back and around to the other side of the Crows' formation.
"The other one that's given us probably the most trouble, out here, has been us trying to hit this big, pretty homerun-ball. Then we get all stretched out, and teams go right back through us on the counter," noted Rivard. "So, the other point of emphasis was, if we're gonna play a bigger ball, that action better lead to a chance. If it doesn't, it's a poor decision."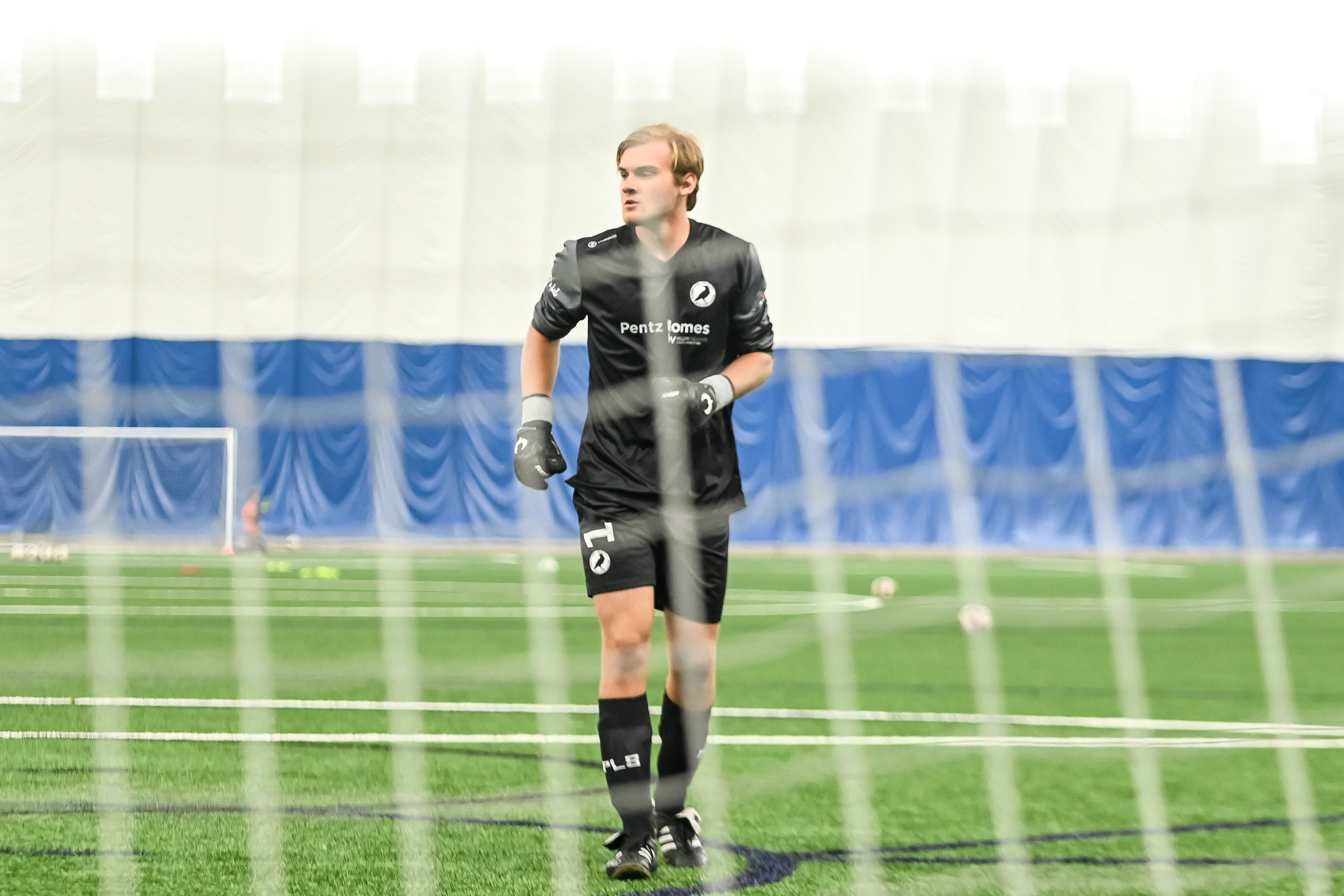 On the individual level, where it was Steevie Lamarre that stole the show with a brace on Friday, keeper Evan Siefken drew rave reviews on Sunday.
"He's been huge for us, right? I've played against him the last two years, at St. Olaf, and it's always been, 'Oh, we're playing Evan, he's a great goalkeeper.'" Morgan said of the St. John's netminder. "He's been big, in terms of his role, the last few games, and brings us a sense of confidence that's nice to have in the back. He's very sure about himself, very good in the air. It's good to have him."
"He was massive on the weekend. There wasn't a single ball into the box that we had to be super nervous about," added Rivard. "He just commands his box, right? Big, powerful dude, and he's willing to use it. Sometimes you get those big monsters and they're not willing to use their assets.
"We still give him a hard time about his distribution with his feet, but you know what? He's just been dominant. We look forward to having that continue."
Siefken, in his postgame, praised the players in front of him for controlling their opponents' shot selection.
"In the first half, they were beating us a couple times on the counter, and then once they'd get in behind, we'd push them to together angles," he said. "So, it wasn't… it was saves that you should be making as a goalkeeper."
Making his third and fourth senior-team starts for Minneapolis, the road trip proved a success, on and off-field, for the keeper, as well as his club.
"Just building that trust, you start to understand everyone's tendencies," Siefken offered. "We're talking outside of the game, still, about positioning, stuff like that. Sharing a hotel with a roommate, you kind of know how he plays the game a little bit better.
"It feels amazing… To start off, in Thunder Bay, down 2-0, and then battle back and get that point, the guys had a lot of confidence coming off that. We really focused on taking care of ourselves the next day. And then, we knew we could get a win, here, today. So it feels good to have all the hard work pay of these past couple days."
City will have a few days to rest and the advantage of sleeping in their own beds before facing Manitoba, again, on Thursday in St. Paul. Returning with momentum built abroad, the Crows look to be in strong form heading into the season's final two league contests, as well as their July 18 cup-tie with longtime rival Duluth FC.