MINNEAPOLIS — Midfielder Abbai Habte stood in his undershirt, hands on hips beneath the Wednesday-evening sky, to answer post-game questions after completing a tough, 90-minute shift. Minneapolis City SC had just suffered a 3-2 defeat at the hands of visiting cross-metro rival Minnesota TwinStars. It was the fourth defeat in City's first-seven NPSL games of 2022. The postgame questions were not entirely unique.
"We just need to start playing like we did in the last 25 minutes, where we're on the front foot," Habte reflected. "So far this season, we're giving too much respect to teams to play into us, when we could take the game to them."
Billed as Dress to Fight Night by City's marketing arm, the match was well in line with other physical contests between the two teams. The pair combined for six cautions and three players sent off.
Dragons forward Sidike Jabateh opened scoring in the 20th minute. Just before halftime, Tayeb Benjaafar capped a romp through the Crows' midfield with a goal of his own. Twenty minutes after the restart, Jabateh, who played with the Futures over the winter, would complete his brace. Before City could find its way onto the scoresheet, the visitors had counter-punched their way to a commanding 3-0 lead.
"We knew that TwinStars had a lot of physicality. And, you know, they caught us a couple times against the run of play. The game became extremely complicated, because it was an uphill battle from the beginning," said NPSL head coach Marco Campoverde.
Campoverde echoed Habte and conceded the Crows did not put the Dragons under enough stress early.
Frustration and rivalry boiled over in the 54th minute when a Jafaar Abdulrahman tackle brought Crows winger Abdu Regassa to ground. Both players were shown red for violent conduct in the scuffle on the turf that followed. Arthur Parens served an additional red issued to Minneapolis' bench for stepping onto the field of play in relation to the aforementioned events.
Playing 10-on-10 seemed to aid the Crows a bit, though Jabateh would score his second following the reduction of numbers. It may also have been that the TwinStars were content to defend a three-goal lead on the road. Nonetheless, the Crows managed to make a game of it.
"We fought back," Habte said. "A lot of teams, after going down three-zero, they just kind of give up. You never saw that, today. Very proud of the fact that we continued to fight and picked up two goals after conceding. We kept fighting until the last minute."
A centerback-to-centerback goal cut the TwinStars' lead to two. In the 67th minute, Jack Barry headed a Lionel Vang free kick on to Matt Murakami, who himself headed the ball home.
Early into seven-plus minutes of added time, Habte played an outside-of-the-boot cross off his front foot and around a defender to a streaking Vang. The 2021 conference XI midfielder fought through contact to get enough of the ball to divert it past TwinStars keeper Hassan Kamara.
Kamara's counterpart, Kaelen Matascastillo, would leave his goal to join his teammates for a Crows' cornerkick in the game's dying moments with City down by a lone goal. But having left things too late, desperation did not provide an equalizing goal for Minneapolis before time elapsed.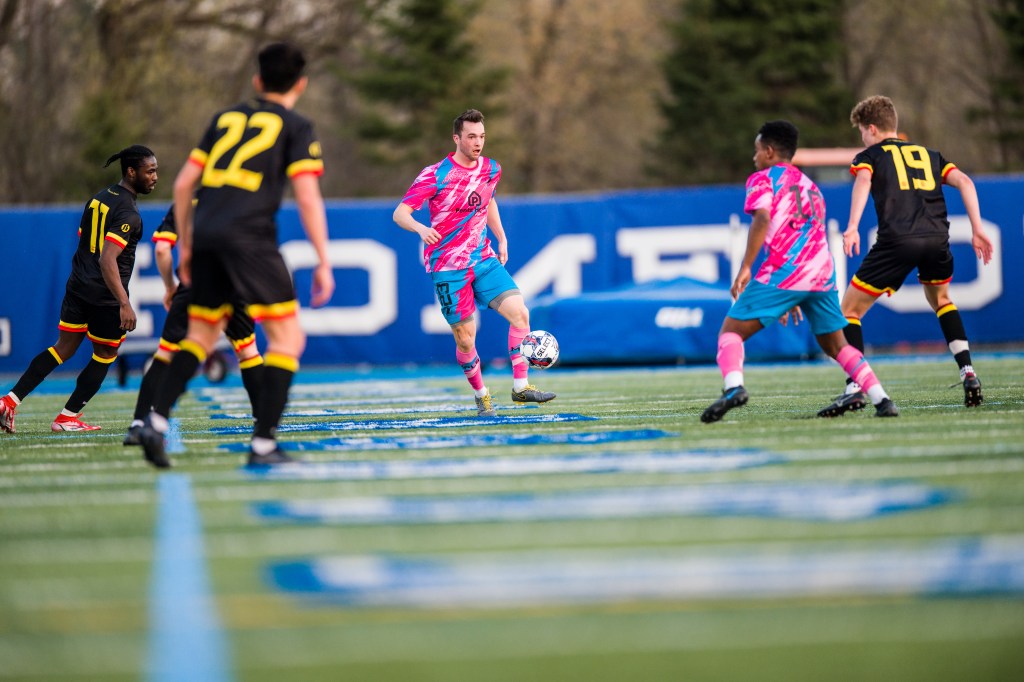 "[Losing] is never fun. This year has been tough," Murakami said. "I think for a lot of us, coming from good programs — whether it be high school or college — haven't lost much. So, not matter the game, it sucks. And then, this is always a big rivalry over the years. There's guys that have played with us on their team. It's a rivalry game for the fans, too, so that hurts a little bit more."
"We're a very talented group. And so, that's not what we're lacking," said Habte. "It's really just effort and focus in what we're doing, and trying to do it the right way."
In Other Action
On Tuesday night, Minneapolis City returned to Stillwater High School for a rematch with St. Croix SC after losing 1-0 to the Legends in its last USL2 contest on May 27. This time out, the Crows fought to a 3-3 draw in a wild and sloppy affair.
Telvin Vah opened scoring for the Legends in the very-first minute of the game. Dylan Olson doubled St. Croix's lead in the 38th minute. Between then and added time in the first half, St. Croix would be forced to substitute out goalkeeper Wesley Sanders and centerback Ethan Anderson. Having already used two of its three substitution stoppages, when centerback Jared Hecht too pulled up injured, Legends head coach Casey Holm was forced to choose between using his third-and-final or trying to make it to halftime playing 10-versus-11.
"I don't know if I would have done anything differently," said Crows League Two head coach Matt VanBenschoten. "You're trying to save your subbing moment, which I totally understand. It's a tough spot to be in."
When Casey Holm opted to wait until the half to replace Hecht, City struck twice. Wunderkind Loïc Mesanvi was first to a loose ball inside St. Croix's 18-yard box. The 18-year old flicked said ball over his back before turning, splitting a pair of defenders and slotting the ball into the far corner.
It was Mesanvi's first League Two goal. And it marked the fourth competition in which the teenager has scored for City, when also including his exploits in the U.S. Open Cup, UPSL and NPSL.
Moments later Eli Goldman would score his third goal in as many League Two games to even the scoreline at two-all.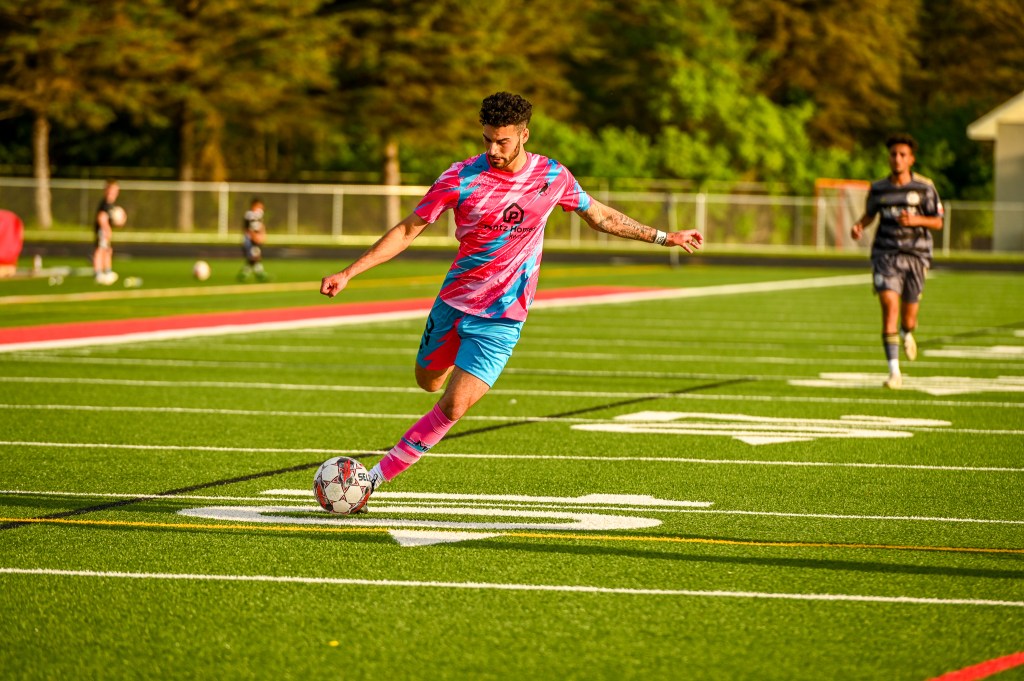 Mesanvi struck again in the 53rd, first-timing a Wes Lorrens cross past substitute keeper Wesley Sanders. A few minutes later, Mesanvi completed his League Two-debut hat trick. Well, nearly.
Video from the St. Croix stream showed Mesanvi's 21-yard chip of Sanders, after striking crossbar, had fully cleared the yellow goal line and was even partially over the white gridiron boundary behind it. But the officiating crew did not have access to said video. And, it truly would have been unreasonable to expect the assistant referee, positioned on the second-to-last defender, to race twentysome yards in the span of a second to re-position himself on the goal line.
"I really don't fault the refs at all," said VanBenschoten. "When it was in the moment, I didn't think it was a goal. Part of it is, you shouldn't have to rely on these calls to go one way or the other. It should be incumbent on us to make sure we're not putting ourselves in this position."
That position would ultimately be level terms, when Victor Gaulmin's 77th minute score proved the last of the game.
"The common theme from our first few games is that when we have our good moments, they're really good. And we have these flashes of showing what we are capable of," VanBenschoten said. "The moments are there. It's just the consistency. A lot of that is impacted by attitude. Whatever variables get thrown at us, the one constant we can control is how we approach games. In giving up two goals, we didn't start well tonight."