ST. PAUL, Minn. — The setting on Saturday was a familiar one for Minneapolis City SC, having made five trips south to play at Rochester Regional Stadium in prior years. But the matchup was novel, with the Crows facing Rochester Football Club for the first time, in what was RFC's second-ever League Two game.
The hosts were coming off a 2-1 win over Bavarian United in their season opener. Minneapolis had yet to claim its first points of the season and was looking to rebound from a two-goal loss to RKC Third Coast the previous weekend. What unfolded was a mostly-nervy contest that opened wide for a frantic, end-to-end final 10 minutes, as both sides chased a victory. With a handful of promising attacks that fizzled and chances taken off target, the events and outcome lent themselves to plausible claims from both sides that a draw was a bit of an unfortunate result.
For the Crows' part, the game was an imperfect but positive step forward.
Eli Goldman opened scoring in the 10th minute, notching his fourth goal in three league games. Played into space down the left flank by midfielder Eric Contreras, Goldman was able to drive into the RFC penalty area before cutting back onto his right foot and snapping a shot inside the far post.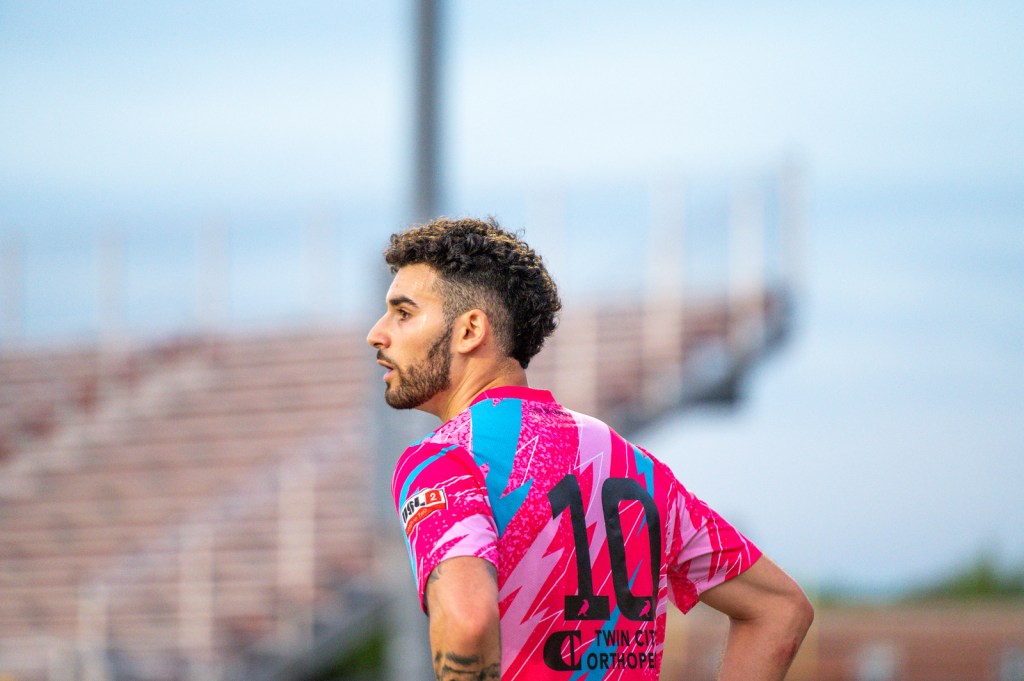 The play was familiar, echoing two of Goldman's goals against RKC Third Coast.
"The help of [fullback] Carson [Pina] running overlaps has given me space to cut in a lot of the time," reflected Goldman, on the similarity of his goals. "He's even told me to take it every time, if I want. It's allowed me to get in where I feel most confident."
The Loons from southwestern Minnesota would level the game in the 22nd minute, when a blocked shot's lazy carom drifted to Pedro Palhares at the edge of the 18-yard box. As keeper Kaelen Matascastillo was trying to recover his position, Palhares did well to take his shot on the volley, between a pair of City players, and into an exposed goal.
It's not the easiest task to spin concession as a positive. However, all of the other goals scored on City this season have come either from counter or corner. An unlucky bounce to an unfortunate float, prefacing the lone goal allowed, at minimum was not a repeat of earlier defensive frustrations.
"We don't think the soccer was the prettiest," centerback Jonah Garcia said. "Positive takeaways, our defensive lines were a lot tighter. We were moving more as a unit, and we were communicating a lot better as a unit — all eleven players. We've really been focusing on getting our distances right, horizontally and vertically, between the lines, and today, it really started to show."
The Crows would grow into the game as the evening progressed, and in spite of striking first on the counter, it was Rochester that held the run of play early. A first-half adjustment, directed by assistant coach Peter Rivard, helped Minneapolis shore up its defense before their opponents could score a second goal.
"They were overloading the touchline on my, Wes [Lorrens] and Shea [Bechtel]'s side," Garcia said. "We had to slide over further into that space; brought Griffin [Gyurci] and Carson over more and just left that weak side a little more open.
"Peter recognized that pretty quickly and moved us. After that, they were nowhere near as threatening over on the touchline."
Rochester's best chances, after that adjustment, were canceled out by the offside flag, and the night proved City's best defensive performance on the young season. In attack, the Crows showed they are still progressing towards a better understanding of one another and how head coach Carl Craig would like them to play.
"We spent a lot of time working on on our defensive shape this week, obviously, and I think it paid off a good bit. I think we looked a lot more compact and harder to break through," said Goldman. "It's come with a little less time working on our final third, and I think [soon] that's just going to click. There's going to be games and we're all on the same page.
"I'm getting more comfortable with the way Hakeem [Morgan] moves, getting more comfortable with the way Shae moves. I thought Eric [Contreras] — I felt super comfortable with him, and he found me a good amount. So, it's just finding that comfort and spending time time together."
Craig, for his part, wanted a bit more composure from a Crows team that made a number of long passes to wingers and forwards that were left isolated against multiple defenders.
"We seem to want to do it the hard way all the time," said Craig. "There's options, there, to play the ball, and we want to play worldies all the time. I like to play worldies, but not when it's not necessary. They way we're set up, or, the way we're supposed to be set up, we should be able to join dots, connect and move short; relatively short passes, quickly. I'm not opposed to playing direct, but too often we go direct and stretch our team out."
Combine defensive improvement with an attack that hasn't yet shifted into high gear, mix the two on the road, and a draw that leaves both players and coaches wanting more produced.
"A little disappointed not to come up with a winner in the end, given we're in some good positions," Craig reflected. "A point's a point, so, gotta get on the board at some point. Generally pleased with the fact that it looks like we've moved forward. Pleased with a point but slightly disappointed we didn't get three. It's progress, slow progress."
Garcia echoed Craig's feelings.
"Definitely feel hard done," said the captain. "I think they had their chances; I think we had the better of them. We had a lot of good moments in transition that we just couldn't put away. But I'm feeling good, moving forward. This game really showed this group wants it. And, we're working on it, all together, to fix these issues we've seen in the first two games. It's a step in the right direction."
Shiny Things
Keeper Oscar Herrera was struck in the face by a shot during warmups and lost once of his contact lenses. Matacastillo had already been named starter for the evening, but City's coaching staff had to hold their collective breath that Herrera would not be called into action, as the latter was without a spare set of lenses on the evening.
Jameson Charles made his season debut for the Crows against RFC. Charles returned to the Twin Cities on Tuesday, following the North Carolina Tar Heels' trip to the Czech Republic and Slovakia. The midfielder fared well for only having had a couple practices with the Crows before facing Rochester, and there is hope Charles can build on impressive flashes of play as he settles in for the summer.
Craig was on hand to watch next week's opponents, Bavarian United, when they faced St. Croix Legends in Stillwater, Minn. on May 21. He left impressed by Creighton attacker Jackson Castro, who plays as a No. 10 for the storied amateur club. "Well put together; disciplined. They can move the ball. They look like they've been together for a while. Quite composed on the ball. Play through lines. I think they're a good sight. They're quite pleasing on the eye, but they haven't been getting results."