By Kyle Eliason
MINNEAPOLIS —Minneapolis City SC began its inaugural USL League Two campaign in less than celebratory fashion, losing its home opener 0-2 to the defending national-champion Des Moines Menace. Goals from Ryley Kraft and Eliot Goldthorp carried the day when the Crows were unable to convert a man advantage over the majority of the second half into a goal of their own.
The Crows came out on their collective front talon, seizing the momentum following kickoff. But turnover leading to foul leading to free kick set up Kraft for the game's first tally in the 26th minute. Asked post-game if conceding early in frustrating fashion was demoralizing, both head coach Matt VanBenschoten and team captain Aiden O'Driscoll rejected the suggestion.
In that, there were echos of Minneapolis' two-goal U.S. Open Cup defeat this March, when the Crows met the Menace for the first time in competitive play. Minneapolis was not intimidated by one of the most formidable foes on its schedule, looked to play positive and attractive soccer, and showed it could hold its own at the League Two level. But there remains a gap that the Crows must work to close, and ideally to close it this summer.
"It's still a mentality thing for us," observed VanBenschoten. "[Our mentality] was good. But, if you're going to play the defending national champions in the home opener, it's got to be great. We have to own the fact that we belong in this league and we're good enough to compete with the best of the best. I know we're getting there, we're just not there, yet."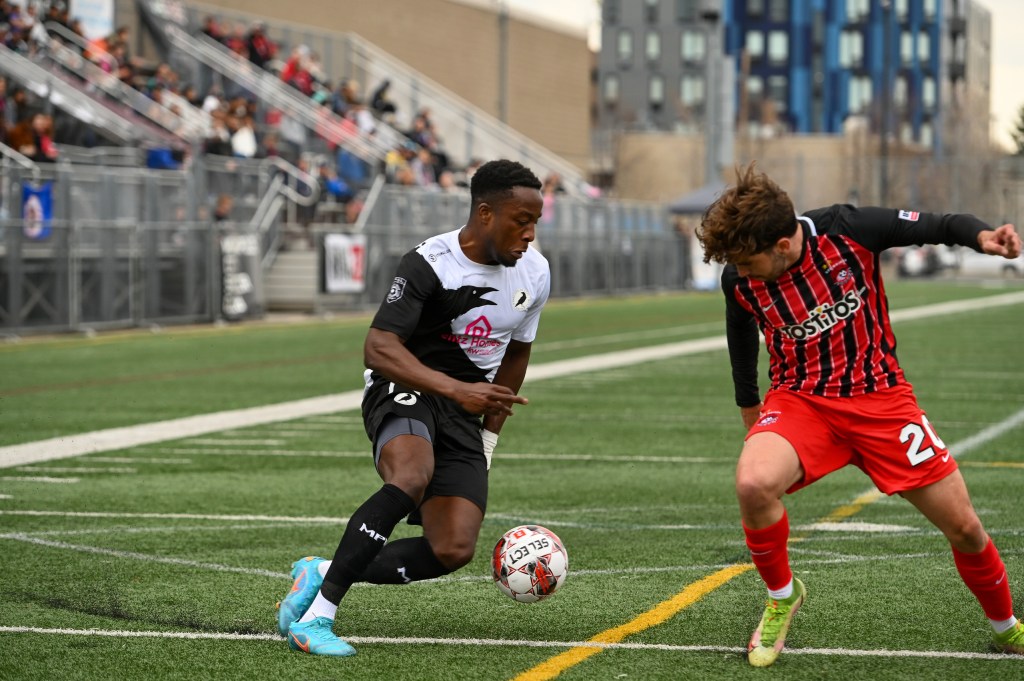 Hopes were buoyed early in the second half when forward Nils Gulbranson momentarily broke through the Menace's back line, and was quickly clattered by keeper Grant Makela. A red was issued for denial of a goal-scoring opportunity in the 48th minute.
Twenty minutes would pass before anyone would score again, when Goldthorp bundled home a rebound following a noteworthy one-handed save from Martin Sanchez.
Boasting a truly global roster that has pulled in talent from over 15 countries, the visitors were ruthless when presented with scoring opportunities.
"This is a step up for me. It's my first appearance in the USL," said centerback Jonah Garcia. "It just means there's never a moment that I can switch off. And that goes for every player on our team. We have to be alert and we have to be focused for the entire 90-plus. There's not a second you can switch off against some of these players because they'll punish you for it."
Held scoreless over the final 20-some minutes by a Menace side that was rightly content to sit deep in defense of a two-goal lead, down a man and on the road, VanBenschoten identified his team's play in the attacking third as an edge in need of sharpening. O'Driscoll, who from center midfield had as good a perspective as any, concurred.
"Intensity and dynamism in the final third wasn't good enough," said the captain, frankly. "We definitely had the run of play for a lot of the game and the red card helped with that, but we didn't look as dangerous as we should have. At the end of the day, they had two chances and scored both. And we didn't."
O'Driscoll topped his comments off with a small sprinkle of bulletin-board fodder, adding, "I don't know if that's the best team we'll play this season, but we'll be at home in this league and we're excited to build on the positives."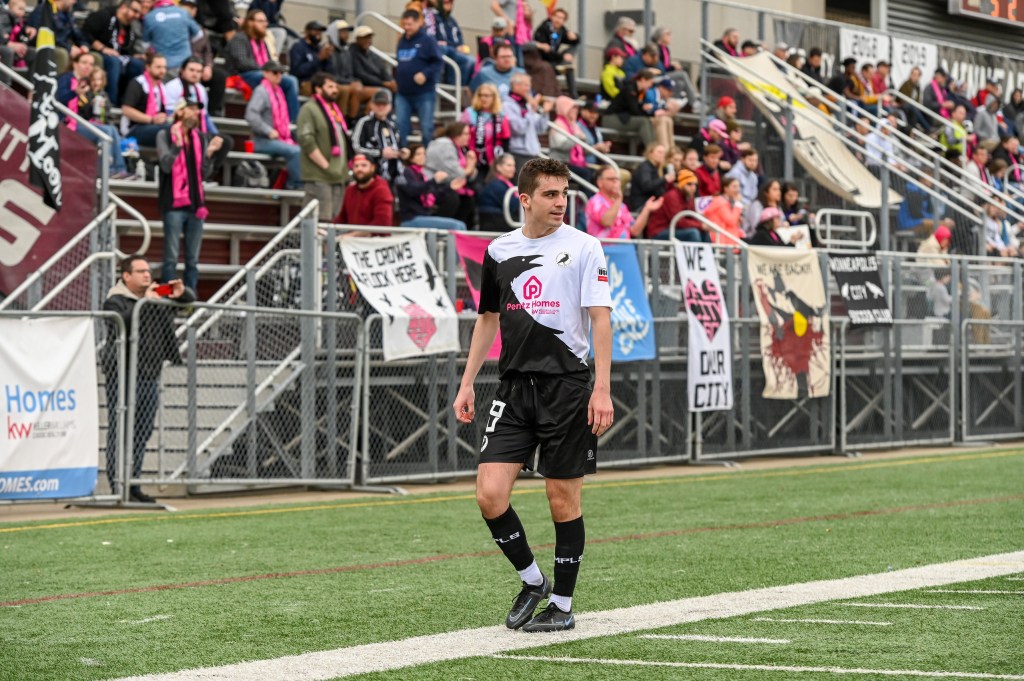 A June 11 rematch away to Des Moines is on the schedule, but so is a full slate of games against USL2 and NPSL competition. The latter leaves VanBenschoten and Crows NPSL head coach Marco Campoverde with six days to prepare for next Saturday's simultaneous away trips to Duluth and Peoria.
In Other Action
Minneapolis City opened its 2022 NPSL season with a 2-0 away victory over the Minnesota TwinStars at Minnetonka High School on Friday evening. Jacek Nickowski assisted Cole Schwartz and Jorge Pacheco did the same for Loïc Mesanvi. That scoreline tipped the goal differential in the all-time series in the Crows' favor, and Minneapolis has now won three straight against the TwinStars dating back to 2019.
Campoverde credited the inclusion of NPSL veterans in his starting XI with helping the Crows prevail in what is always an enthusiastically-contested local derby.
Said Campoverde: "Troy [Louwagie] in goal, he's been involved with the league for a couple of seasons. Jack Barry, who captained the squad on the day was just a really calm figure in the back who paired well with Will Orser. Samuel [Ruiz Plaza]'s presence was phenomenal. And then we had Medo [Youssef] up top, who has the experience and know-how of how to break down defenses and be clever in the attacking line."
VanBenschoten, when questioned as to whether or not those experienced hands might have made a difference if reserved for Sunday's USL2 tilt, brushed the notion aside.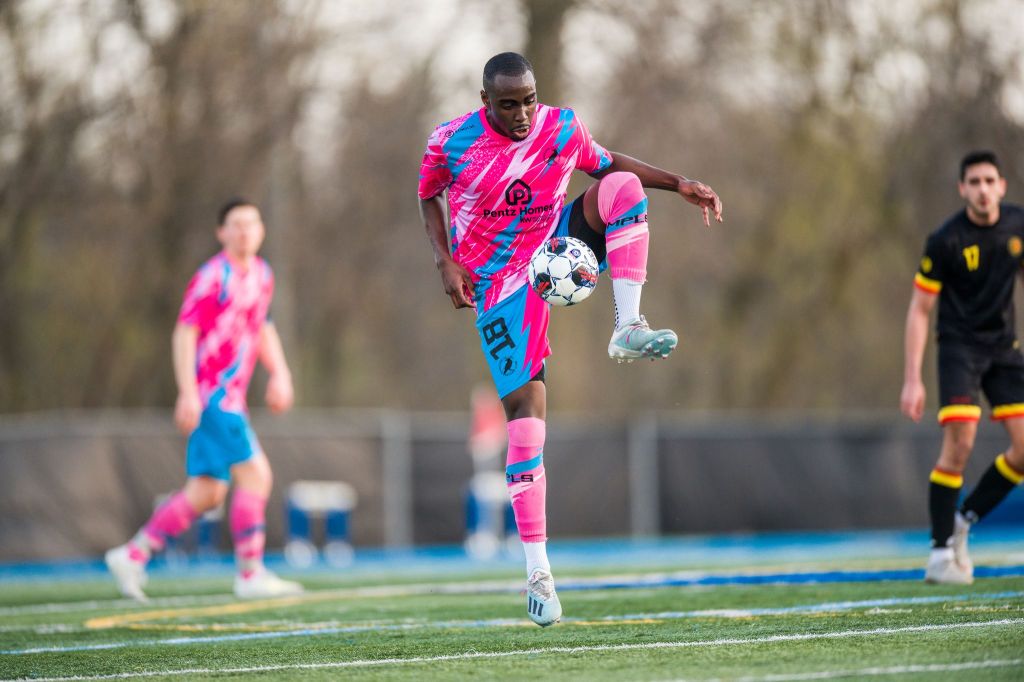 "I really don't think so," Vanbenschoten said. "The guys we had out against Des Moines have shown that they can play very well. I was happy with our spine last night and I was happy with our team selection, today."
Campoverde, reflecting on his Crows coaching debut, said he knew the TwinStars would provide a challenge, and having come through it successfully, is hoping that victory provides momentum that carries into next weekend's game away to Duluth.