MINNEAPOLIS — Minneapolis City SC opened scoring in its 2023 USL League Two season via a 31st-minute Hakeem Morgan free kick, but second-half goals from Nathan Donovan and Otis Andersen carried the day for St. Croix Legends. With the victory, the Legends took a narrow 2-1-1 lead in the all-time series, and tallied their first win at Edor Nelson Field.
The first half was a promising one for the Crows, and City fans found cause for celebration a half-hour into the match. Winger Shea Bechtel was fouled from behind by Andersen — the later earning yellow — to set up a free-kick for Morgan.
"I've been training. That's usually where I go, on that side," the forward said. "I went with my instinct to play it over the wall; make it go up and down. Definitely went in."
The result was a Martin Browne, Jr.-esque left-footed strike, carefully tucked low and inside the near post.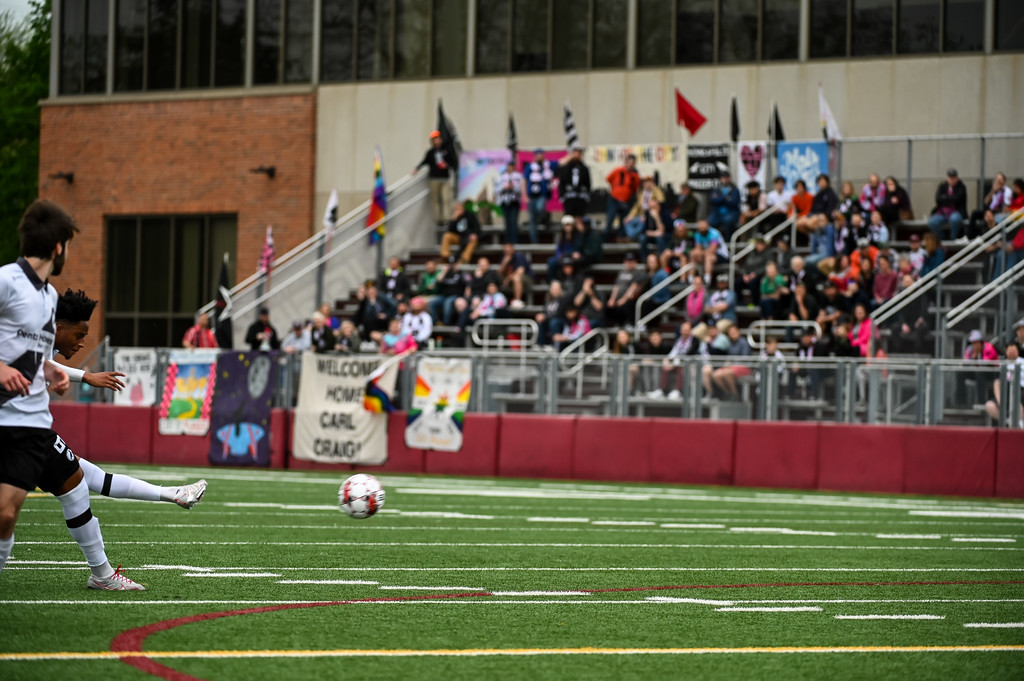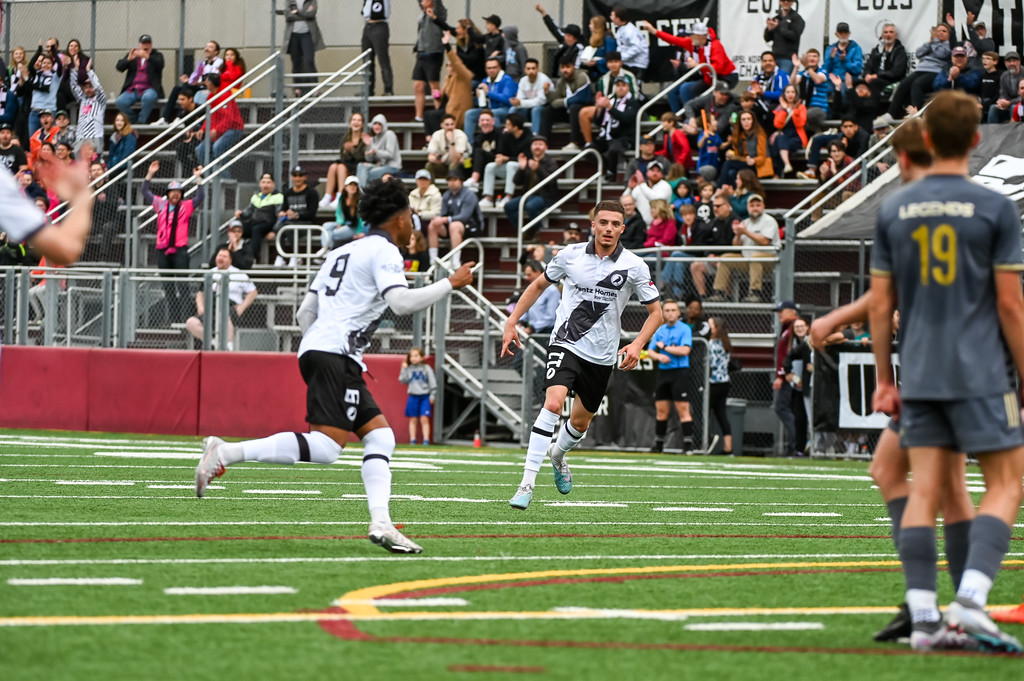 It felt as though Morgan's goal would be the first of many for City. The Crows put together promising pressure, holding the run of play, but misfires caused attacks to fizzle as final passes lacked precision. Conversely, the visitors were content to defended deep and try and catch the hosts in transition.
Crows keeper Oscar Herrera did well to get quick hands to a hard-hit shot from Donovan in the 28th minute; Jonah Garcia also got the better of Donovan one-on-one in space; and center back Griffin Gyurci sprinted 35 yards, after getting caught out, to block a St. Croix cross in City's penalty area. Last-ditch defending, corralling Legends on the break, kept St. Croix off the scoresheet heading into the half. But the visitors' threat on the counter loomed.
"I think our biggest thing is just organization while we're attacking," said right back Wes Lorens, who went the full 90-plus minutes for Minneapolis. "Just making sure we have numbers back, so in case we do lose the ball up top, we are ready to defend.
"[We] need to win the ball over the top. We can't just let them have a free ball."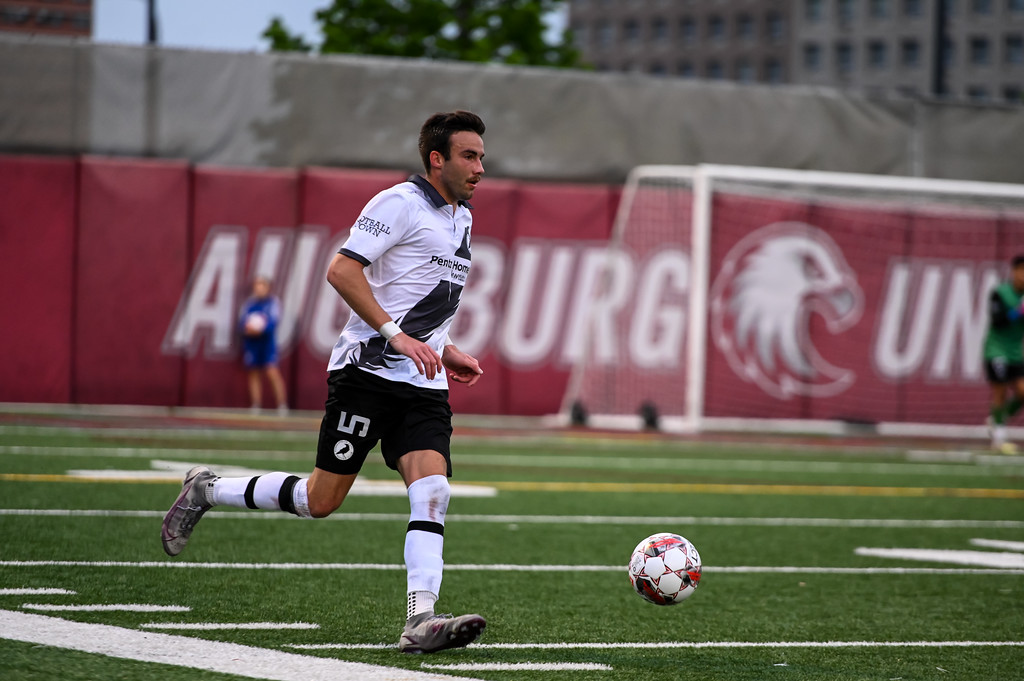 Cautious optimism was the mood at the Nelly when play resumed after intermission. City had a lead, and hopes were the Crows could get their attack to connect before the Legends could lash-out on the break. But the inverse occurred.
Two-minutes into the second half, a ball was sent long in Donovan's direction. Contesting against Crows-captain Garcia and Herrera at the edge of the 18-yard box, the center forward was able to lift the ball wide of the pair and get back onto it before the keeper could fully recover. Donovan slotted the ball home to even the score line.
The eventual game-winner came in the 53rd minute. A St. Croix corner, rattling through traffic, found turf, post, and lastly, the boot of Andersen. It was a frustrating concession for the hosts, whereas all goals are welcome for whomever scores them.
"Probably about six inches, and 50 pounds," was City manager Carl Craig's answer to the difference between the two sides on the evening. "They bullied us for the corners, just physically head-and-shoulders above. That would be the biggest difference, really. Disappointed with that second goal, but when there's fellas that big above you, not a lot you can do."
St. Croix's second goal momentarily-dented Minneapolis morale, and there was a noticeable lull in energy before the Crows redoubled their efforts.
"We started playing slower and we got a little naive in the second half," Lorrens reflected.
Substitute Steevie Lamarre came close to corralling a cross inside the Legends' penalty area. Morgan's second free kick of the night was juggled by Sanders, late. A handful of other moments teased a way back to a result. But Minneapolis could only complete the penultimate move of second-half attacks, and the final whistle fell.
"I was a bit concerned about their physicality, literally, in the second [half], for their set pieces and corners. Which, you know, they got one," Craig said. "Beyond that I wasn't really all that concerned.
"We lost a bit of hope. Lost our legs, really. We try to play football, try to move it into the positions, and they parked the bus, somewhat. And, I don't mean to be negative. That seems like I'm having a go at them, now. You gotta win. They've got to do what they've got to do to win the football match. We had enough decent chances to at least get a point from it. But we didn't."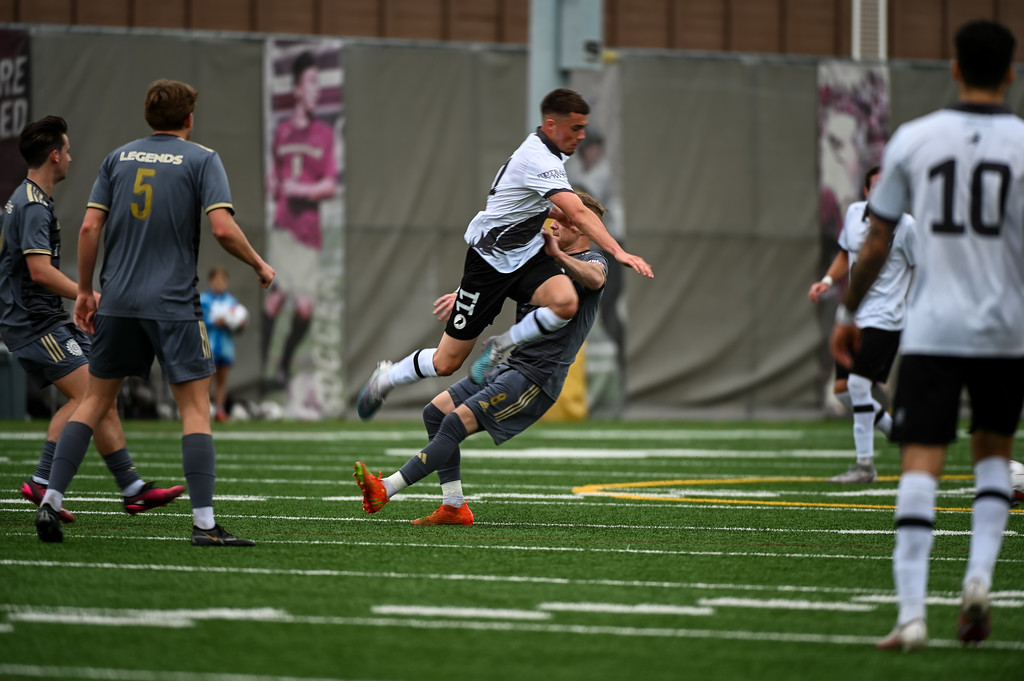 Over eight-hundred fans braved an overcast sky and scattered showers to cheer City on. Denied the use of a victory in its league-opener to help set the tone for the new season, Minneapolis has a week to regroup ahead of the club's 100th competitive match. League Two expansion-side RKC (Racine Kenosha County) Third Coast is next on the Crows' schedule, with the pair set for their first-ever meeting.
"We just keep training," said Lorrens. "Keep the mentality straight, and just go out and win next week."
Morgan, the No. 9, added a forward's thoughts on the way forward.
"I think it's an everyday thing. Coming into practice, be open," said Morgan. "Be open to know the guys. Be open to know what they like to do on the field; what they don't like to do. Just take it all in and try to do our best to move as a team, because we need to be on the same page if we want to win games from now on."
Shiny Things
Three players in each team's first XI turned out for the opposing side last year, as the Minneapolis-St. Croix matchup took steps towards establishing itself as a local derby. Former-Legends Morgan, Victor Gaulmin and Bechtel started for Minneapolis, while former-Crows Erick Bloom, Nick Zuchowski and Bernard Assibey-Rhule started for St. Croix.
After a promising debut, Minneapolis will be without the services of Gaulmin for an indefinite amount of time. The midfielder is headed back to Brest, France to attend to family matters. "The kid's good. I think his attitude's first class," said Craig. "It's a shame he's leaving because he's only been here three days." Gaulmin's St. Olaf teammate, Morgan, added, "Definitely gonna miss Victor, he's a great player. But, we have other players, like Clemente [Arcuch-Puig]. We have other midfielders. Just try to move on."
Asked which of his players' performances stood out, Craig offered that he thought Garcia turned in a captain's performance, was pleased with Morgan's role as the focal-point of the Crows' attack, and praised Bechtel's work on the wing. "Shea's a footballer," said Craig. "When we were playing a bit more direct in the first half, Hakeem would post up for us, and Shea getting around on it — tremendous."
As various colleges and universities conclude their spring seasons, Craig and company will be joined by reinforcements Jameson Charles, Cullen Connaker, Curtis Wagner, Zach Susee, Darley Florvil, Andrew Soczynski and Miles Akhigbe in the coming days. Charles and Susee both impressed for the Crows last season.