STILLWATER, Minn. — In the 68th minute, a free kick was sent from midfield into Minneapolis City SC's penalty area. St. Croix Legends defender Jared Hecht contested for the ball amid a crowd of players, with fullback Xavier Zengue the closest Crow. Getting a piece of the ball with his head, Hecht sent the former nearly straight up in the air. The ball's slow drift carried it to second-half substitute Kobby Owu, who softly sent a well-placed header past goalkeeper Martin Sanchez from inside the six-yard box. It would prove the evening's only score and large enough of a margin for St. Croix's first League Two victory.
For the Crows, it was their third defeat in four USL2 matches. The result was doubly-bitter, having outshot and out-possessed the Legends on the evening while left in pursuit of their first league win.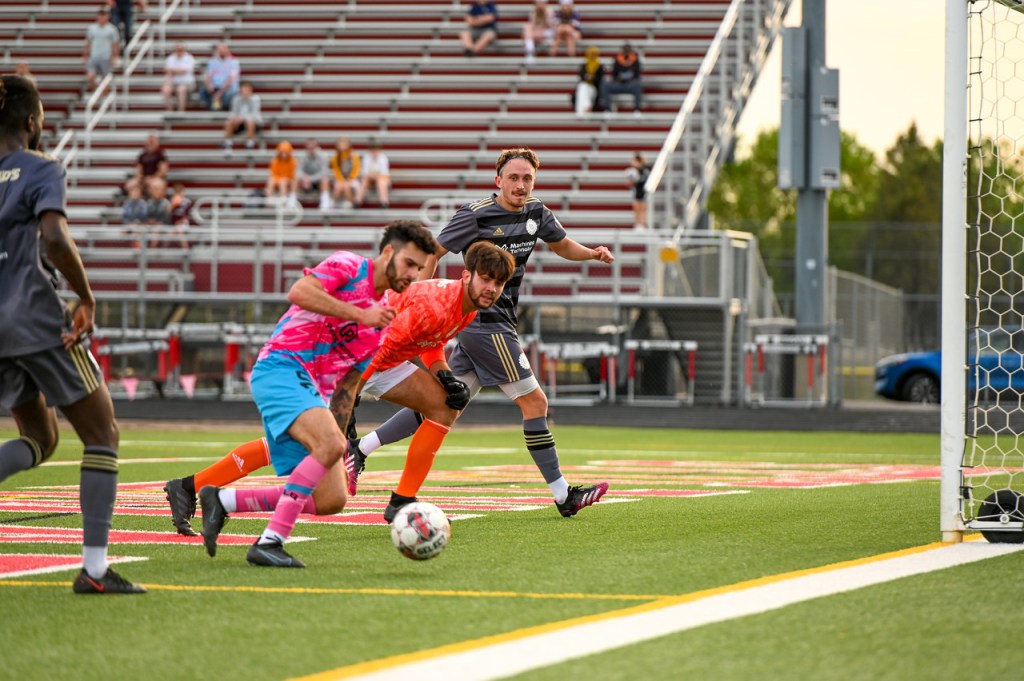 Team media — the kind you are presently reading — should not be confused for journalism. Said team will always have final edit. But if the reader will permit the request, please note this author's frankness in previous recaps published on this site. The reader will find that in City's losses to Des Moines (May 8), Duluth (May 14) and Peoria City (May 20), the author rightly noted the Crows held the balance of play in none of these contests.
That was not so on Saturday, and on an evening when City so needed a win. But no result is owed to any team taking the field.
Continuity was an invaluable asset to Minneapolis City as it racked up back-to-back-to-back NPSL North Conference championships from 2018 to 2021 (with the absence of a 2020 season keeping those titles consecutive). In those years, talent was converted into production. In 2022, roster turnover from the prior year has approached 30 percent across its Futures and senior rosters. The later expanded to meet the challenge of adding USL2 competition alongside NPSL play. And that alchemy which turned talent into results has gone missing.
The cold facts are that Minneapolis City's senior team has taken five points from its first 10 matches across both leagues.
Looking at the glass as half-full, there is still notable talent on the Crows' roster. On Saturday in Stillwater, Herbert Endeley's reputation preceded him, and the soon-to-be senior at Indiana drew double- and sometimes even triple-marking when on the ball. Zengue looked a true dual-threat, getting involved at both ends of the field. Captain Aidan O'Driscoll paired refined technique with the kind of commitment expected of any player wearing his team's armband. Sanchez stopped every shot he rightly should have. Centerback Jonah Garcia is emerging as a leader, and marshaled the Crows' defense. And the aforementioned does not even include the man of the match.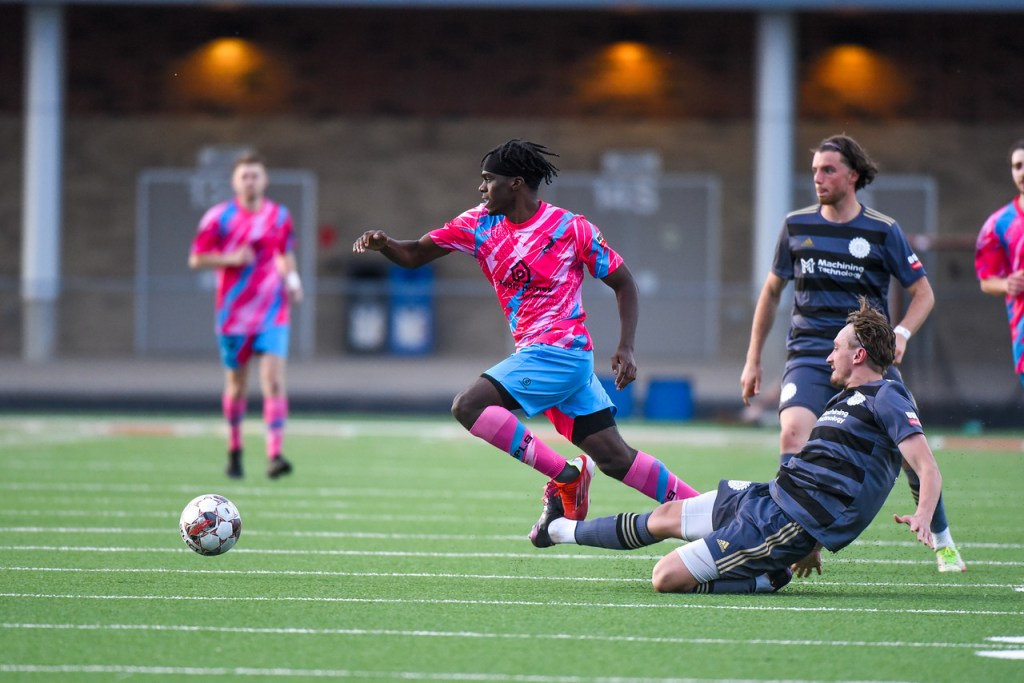 Containing over 10,000 lakes, the start of the mighty Mississippi, and lesser rivers and streams, six percent of Minnesota is covered by water. As evidenced this past weekend, the remaining 94 percent is covered by Jameson Charles.
Fresh off his Crows debut away to Sioux Falls in the NPSL last weekend, it is to avoid hyperbole to say the 5-foot-7, 150-pound midfielder did the work of one-and-a-half players on Saturday. In the second half, St. Croix head coach Casey Holm shifted his team's approach to focus on attacking down the wings. It was an astute tactical adjustment, as Charles seemed to appear on the back of any St. Croix player who received the ball when not up against the touchlines. And as often as not, Charles did not linger, having taken the ball off his opponent.
"He made the game really easy for the other center midfielders," said Charles' fellow center midfielder, O'Driscoll. "So good. Winning everything. Playing super simple. And created a lot of space for the rest of us to work in. He was our best player, tonight."
"There's a reason he plays at North Carolina," said USL2 head coach Matt VanBenschoten. "He unlocked so many things. A two-way player where he's very good on the ball and can move it but then you see how gritty he is defensively. There are guys who are six-two and he's five-seven and he gets stuck into tackles. That's what we've been missing."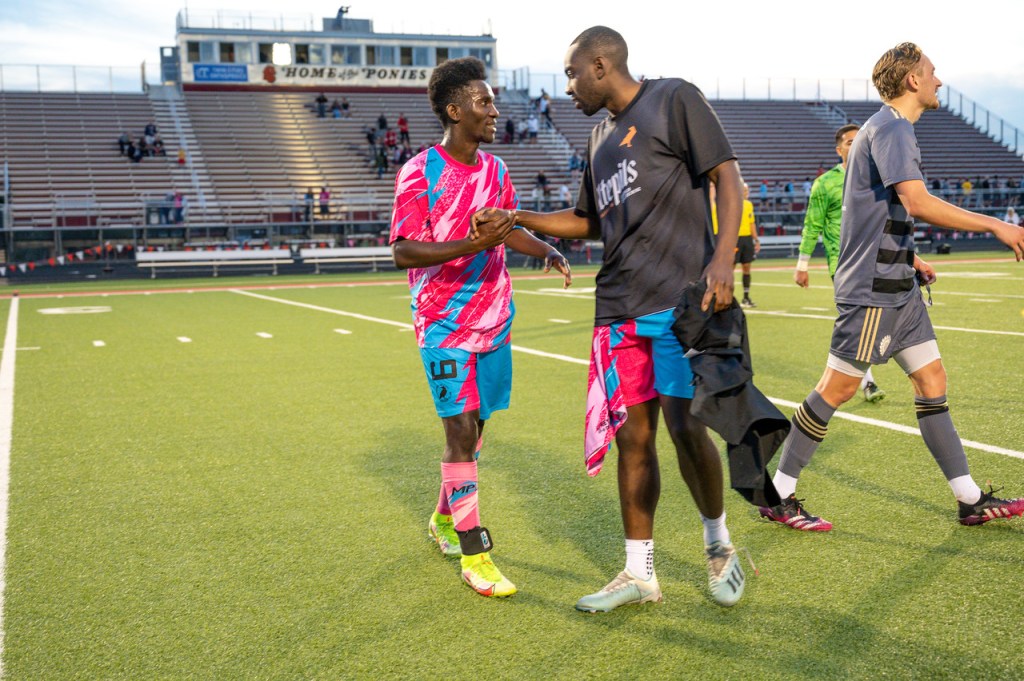 Crows fans will have to hope Charles' inclusion overlaps sustained commitment as Minneapolis City faces the disappointment and adversity in which it is currently mired. In addressing his team, postgame, VanBenschoten reiterated that neither he nor his staff are giving up on the club's summer just because it has begun in such disappointing fashion.
Those words seemed to resonate with Charles.
"It doesn't go our way tonight? Next night? Keep pushing. Keep training," said Charles. "Keep putting in the same intensity, because I'm here to make a difference. Does matter what's going on. I'm here to make a difference."
In Other Action
The Crows had won seven-straight matches against Dakota Fusion FC. It was the first-ever meeting between the pair — a 3-2 defeat on May 26, 2017 at Edor Nelson Field — that provided Minneapolis' only previous loss in the all-time series. Saturday night's late, 8:00 p.m. kickoff at the Blake School would produce the second.
It was a reunion of sorts for Crows NPSL head coach Marco Campoverde, who previously served as an assistant coach for the Fusion prior to their joining the NPSL, and as the head coach for Fusion's WPSL team.
"It's always interesting when you're part of a different organization and then you have the chance to compete against them," Campoverde said. "There weren't a lot of people I knew because the roster has had almost 100-percent turnover. But I had the chance to congratulate [goalkeeper coach Thomas Schroeder], who played on that original Fusion team, which was a cool moment."
Minneapolis City's first home game of the 2022 NPSL was one that swung wildly. Gustavus Adolphus forward Cole Schwartz capped a nice sequence of team play to score the contest's first goal, and City took a 1-0 lead into the half. Tre Bonaparte leveled the game for the Fusion after the restart. In the 68th minute, Abbai Habte sent a Crows penalty kick over the Fusion's crossbar. Then, just a minute later, Kazuma Ishizuka scored what would prove the game winner.
Though the final 20 minutes saw a mad scramble from the Crows to claw back a result, the Fusion left the Twin Cities unscathed.
"For us to have missed two crucial penalty shots in close games in the last three matches, and then, especially, to not have a penalty hit the target and even give us a chance to get something out of it, it knocks you down," said Campoverde. "That something we have to take responsibility for. And that's an easy fix, just getting a few extra reps in training.
"Part of professionalism is reacting to adverse moments in a positive way — in a constructive way."
In Other, Other Action
Minneapolis City's early-season struggles continued as the Crows dropped three points away to "big-three" NPSL North rival Med City on Wednesday, May 25. Wunderkind Loïc Mesanvi opened scoring in the 10th minute. It was the 18 year old's fourth goal in three NPSL contests. But 14 minutes later, calamity struck.
"Really weird situation, what happened with the long throw-in. The ball was very slick because the night was a little wet," said Campoverde.
That situation involved a miscommunication between keeper Troy Louwagie and defender Will Orser, and concluded with Orser's header ending up in the Crows' net.
"That obviously took the wind out of our sails. It was a huge boost for Med City and really changed the tide of the game, because it was a momentum-shifter," said Campoverde.
Scott Neil would double the Mayhem's lead in the 28th minute, and Med City veteran Dion Dozzell would ice the game in the 80th minute with a goal of his own.
"There's frustration because results haven't been consistent with what they have been the last few years with the club in this league. But that's healthy — not being satisfied with the current performance level. Not being satisfied with the fact we've dropped points that traditionally we haven't, and finding ourselves looking up at the table instead of down," Campoverde said.
"There's a belief that we can get through it. There's an optimism shared by both the players and the coaching staff that the best is yet to come for us. And if we figure out how to make a few positive changes, then we can get ourselves back in the hunt."