by Kyle Eliason
DULUTH, Minn. — An Eli Goldman brace helped Minneapolis City secure its first result in USL League Two play, and in dramatic fashion. The 2-2 draw at Shea Stadium in Peoria, Ill. saw Goldman answer each of Peoria City's goals with one of his own.
When fellow University of New Hampshire Wildcat Gustavo Rodriguez opened scoring for the hosts in the 10th minute, Goldman responded in 23rd. Following Gevork Diarbian's 54th minute penalty kick that resulted from a hand ball, 40 minutes of tension would follow. A Peoria red card in the 87th minute only heightened the pressure on the Crows to return to Minneapolis with a result.
Provided with an open look at goal by Sydney Tume in the 94th minute, Goldman delivered from 12 yards out.
Goldman was used by Minneapolis as a No. 10 in seasons past to take advantage of his passing and ability to play with his back to goal. During preseason preparations, USL head coach Matt VanBenschoten had discussed moving Goldman up to play in the middle of the Crows' front line.
"It's funny, when we envisioned [Goldman] playing as the No. 9 for us, it was to create more opportunities for other players," VanBenschoten said. "Clearly, he can score goals and get in behind defenses. So, maybe, he's less of a false-nine and more of a real-nine."
Per VanBenschoten, Minneapolis looked much better after tightening up its play following Rodriguez' opening goal. And the Crows were surely aided by playing up a man over the game's final eight minutes, having now drawn a red card from their opponent in each of their first League Two contests.
"We were talking about that last night. It's like the NPSL last year. For whatever reason, we are really good at drawing red cards on other teams. I don't know why, but I'm okay with it. We'll try to go 12-for-12 drawing red cards in USL2 this year," chuckled the head coach.
In Other Action
Separated by a two-hour drive along Interstate 35, and given the respective geographic scale of the NPSL's North Conference, the rivalry between Minneapolis City SC and Duluth FC was forged from competition far more so than it was proximity. In the four seasons the North has been contested since its creation in 2017, neither the Crows or BlueGreens have placed worse than third, no team outside the two has won the conference title, and the pair have combined to account for three-fourths of the North's berths into the Midwest Region playoffs.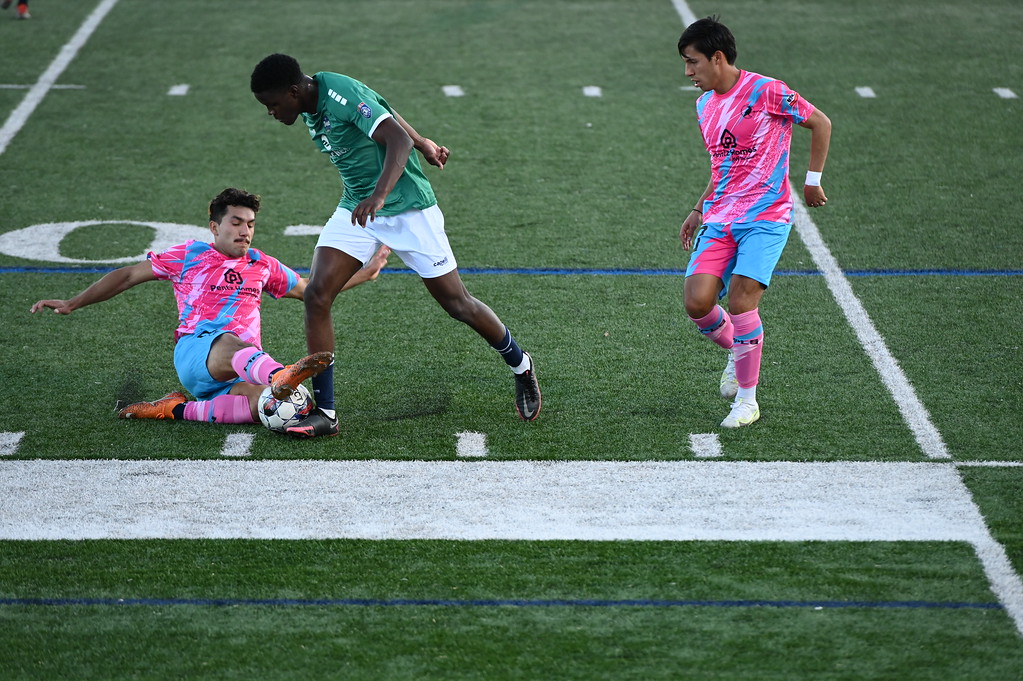 On Saturday evening at Public Schools Stadium, a 2-0 result for the hosts leveled the all-time series at 4-4-2. It also brought an end to Minneapolis' three-game winning streak against Duluth and earned the BlueGreens the honor of having kept the first-ever clean sheet in the rivalry.
Duluth made use of sustained pressure, and goals scored early in each half by Felipe Oliveira and then Sam Thornton, to take all three points on offer. It marked the first time the BlueGreens have bettered the Crows by a multi-goal margin, as all three-previous Duluth victories were achieved via a 2-1 scoreline.
Defeat provided opportunity for reflection for a pair of veteran Crows that took their place in a starting XI featuring a number of teammates embarking upon their first NPSL North campaigns.
"I think a lot of these guys are new to the Duluth-City rivalry," said 2021 North Conference Best XI winger Lionel Vang. "They come in here not knowing how much this team wants to beat us. We beat [Duluth] the past two seasons to win [conference] championships, so they had a chip on their shoulder."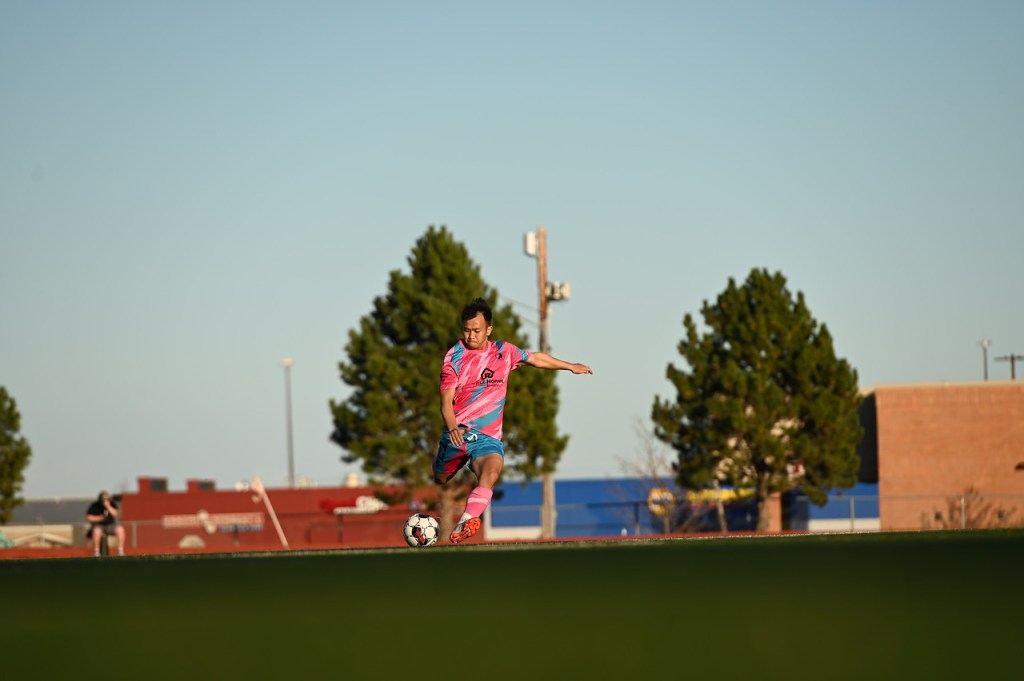 Defender Aaron Olson, who described Duluth-City as the conference's marquee match-up, made his 57th career appearance for Minneapolis City, tying Will Kidd for first place in club history.
"It's never fun to drop points to any team, Duluth in particular, because of the rivalry," said Olson. "We have new players this year, we have an identity we're trying to commit to, and we're going to grow into it, for sure."
Fans, pundits and the club's brass identified Minneapolis' plan to use a single, expanded pool of first-team players to compete in two leagues, simultaneously, as a challenge unique from those of previous seasons. For NPSL head coach Marco Campoverde, establishing a shared sense of that identity mentioned by Olson is at the core of that challenge.
That identity, per Campoverde, is that of a team that dictates play to its opponents. In keeping with that ethos, City sought to keep possession and build its attacks from the back. But neither side was content to temper its initiative, and Duluth showed resolve in collectively pressuring the Crows high up the pitch.
"When they commit numbers forward, it definitely changes things, because it makes us question whether we want to stick to what we're used to doing, or if we want to adjust our style of play based on what they've presented," Campoverde noted. "A really unique game from how they approached it. I'm motivated to get back to training so we can talk about some of the things we saw and hopefully be better prepared next time."
Campoverde added that it is City's belief the club has the players it needs to win playing its way, and that success will come from successfully integrating players into it.
Vang, who saw more time on the ball in the game's final half hour after moving in centrally from the wing, agreed with the suggestion there was a bit of a disconnect between City's midfield and its front three against Duluth.
"It's new players playing together, just trying to match," said Vang. "There had to be more movement in between us."
Vang added that the early-season loss to the rival BlueGreens was a wake-up call for the Crows.
"This is tough at the beginning of the season," Olson concurred. "There are a lot of games left, a lot of points left on the table. They still have to come to us. We're pretty confident about the next time we face them."
In a game that might have seen Duluth run out 4-1 or 4-2 winners had each team capitalized on its very best scoring chances, Olson narrowed his reflective focus further.
"I think a positive we can take away from this game is, the two goals they scored, we didn't necessarily get beat. We just had some break downs. That's really the only positive I can find, because it's Duluth and we always want to win against Duluth."