MINNEAPOLIS — FC Manitoba defender Sergio Molina poked a loose ball through traffic and into Minneapolis City SC's goal in the 26th minute of Wednesday evening's League Two contest. The Crows had failed to clear a corner and the visitors made the most of the second ball.
Diego Reveco would double Manitoba's lead on the counter in the 30th minute, finding space inside City's penalty area before slotting the ball between keeper Mathew Zambetti and his near post. Second-half substitute Zach Susee clawed a goal back for the Crows in added time, but a late rally failed to produce an equalizing goal and the visitors left town will all three points.
Still in search of their first League Two victory, and now with just two home games remaining, Wednesday night marked the ninth time in ten USL2 games that Minneapolis' opponent opened scoring.
"Counter attacks and set pieces," said League Two assistant coach Tori Burnett, listing the Crows' defensive woes. "It's still… we have to be committed to that. Every single player has to be committed to preventing counter attacks and defending sets pieces, because that's when we get scored on."
"It really shifts the momentum," said Zambetti. "We're not digging ourselves out of a hole if we score first."
After former Serie A and current Manitoba forward Michele Paolucci hit the post in the 9th minute, and the visitors recorded both their goals by the 30th, the Crows opted for a pair of early substitutions. Jameson Charles and Matt Murakami replaced Sidney Tume and Joey Tawah in the 36th minute as head coach Matt VanBenschoten was in a hurry to get a comeback started.
Due in no small part to Zambetti making a pair of one-on-one saves against Paolucci, Minneapolis would make it to halftime without conceding again. But the Crows failed to make their way onto the scoresheet.
City's best chance of the first half came in just the third minute, when an attack launched down the wing saw Loïc Mesanvi draw goalkeeper Even Barker's attention before squaring the ball for fellow Futures graduate Jacek Nickowski. A half-step ahead of the pass, Nickowski had an open look at goal but could not quite manage to pull the ball forward from behind.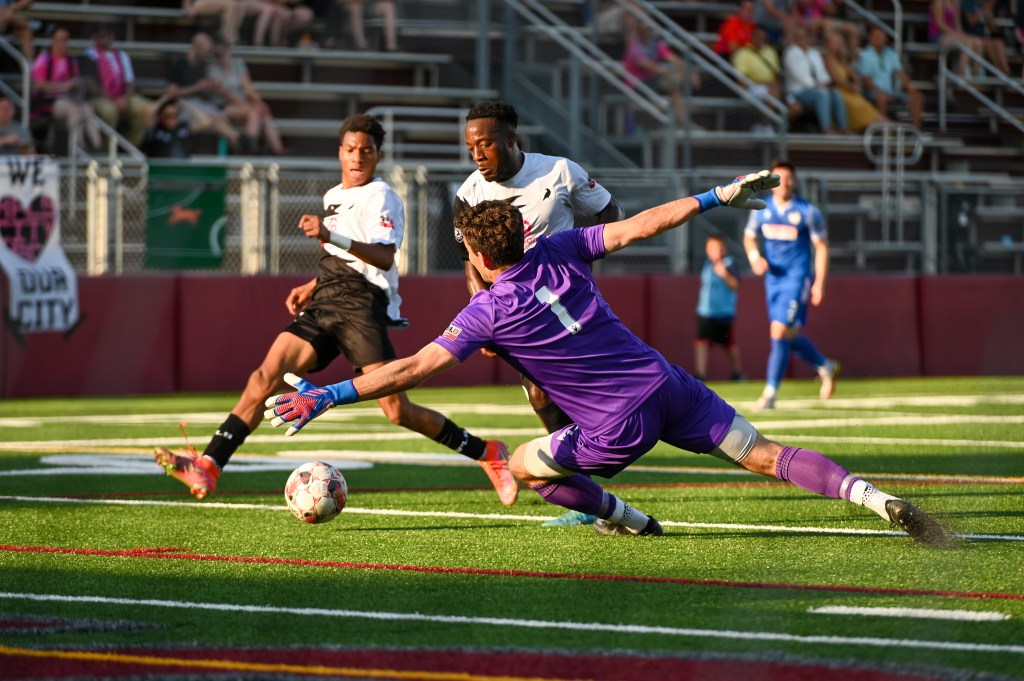 "We definitely had our chances that we didn't finish," Zambetti said. "That's the game of soccer; they finished a couple of their chances, early, and then it was back and forth for the rest of the game. Maybe a tie better-reflects the run of play, but they took advantage of their opportunities well."
Mesanvi created his own space inside the Manitoba penalty area in the 55th minute, but Barker got the better of him, using an impressive reaction save to tip the ball over the crossbar. In the 68th minute, it appeared City had earned a penalty kick, but after the referee conferred with his assistant, the Crows were ruled to have been offside.
Having played in Stillwater, Minn. against St. Croix SC the night before took its toll on the visitors. The final 15 minutes of regulation — plus a substantial 10 minutes of added time resulting from a number of injuries and cautions — saw the hosts with a firm grip on the run of play.
Manitoba would finally concede in added time, when Mesanvi successfully assisted Susee on the latter's first League Two goal. The close-range shot left Barker with little chance as it found the far, top corner.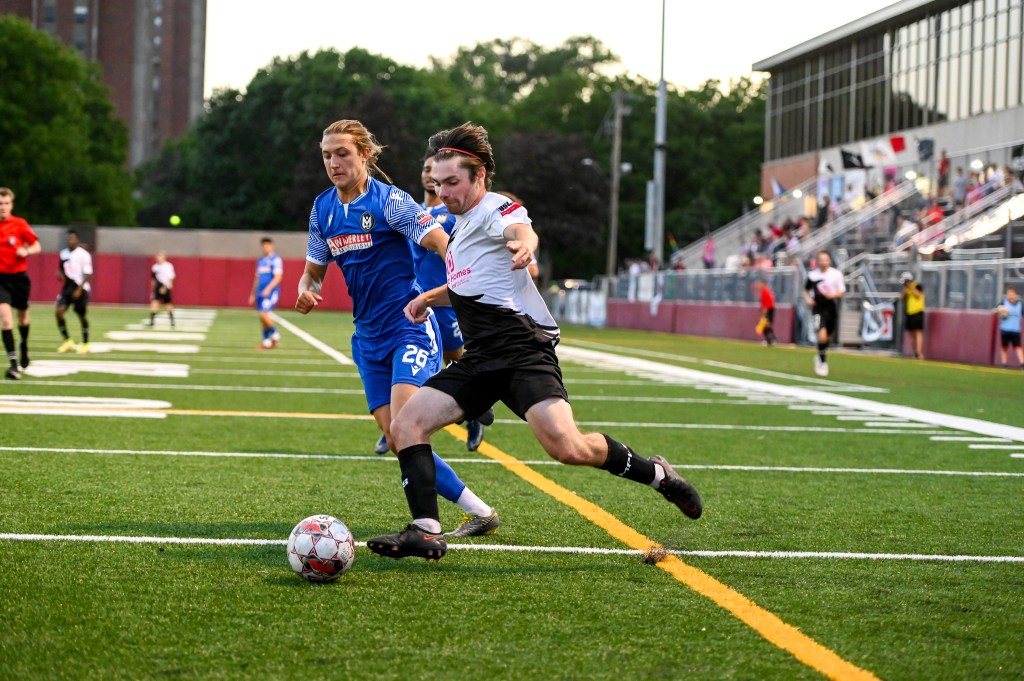 "Hoping to get another one at the end, there, but I was pretty happy about scoring my first," said Susee. "I think the energy off the bench was huge — bringing Ramzi [Ouro-Akondo], Lionel [Vang] and I on. We were just running at them, bringing that wave of energy against a team that played last night."
Ultimately, no second goal could be found for City ahead of the final whistle, and the Crows fell to 0-8-2 in league play.
"We've got to play right, connect as a team, and getting going early," reflected Zambetti.
Ahead of her post-game interview, Burnett asked for a moment to collect her thoughts before fielding questions.
"I think the soccer gods were against us today, as they have been all year" offered Burnett, after exhaling deeply. "We get a penalty and he's offside — moments like that when the ball is not bouncing our way. It's frustrating because the ball has not bounced our way for 10 games. I don't know if that's the past six years for this club and all the good bounces we've had, and the karma is swinging back in the other direction? It seems like there's a lid on the goal."
Burnett went on to offer her focus for the Crows' final pair of League Two games this summer.
"We have to get everybody back to the why. Why are you here? Why are we here? Why are we doing this? Why do we still care? Why do we still have fans at every game? Why are the coaches still showing up? Why are all the players still here?
It's the love of the game. It's the love of the people around you. It's the love of the club. That's the why, right? For me, that has to determine how we play. If we have the same energy from our last 20 minutes to finish our first four chances? We have to keep that fire for all 90 minutes."