BY ELI HOFF
Eli Goldman had options. He didn't need to come back to Minneapolis City SC.
He's a pretty darn good soccer player. As a junior last fall, he led the University of New Hampshire in goals, with nine in 20 appearances. That landed him a spot on the America East's All-Conference First Team. Last summer, he notched three goals in just under 500 minutes for the Crows.
It's the sort of track record that advances a player to "in demand" territory, a dazzling land full of options. And faced with a multi-pronged fork in the road, Goldman showed that he's the sort of player who chooses the path back home. The hometown standout will return to Minneapolis City for its 2023 USL League Two campaign later this spring, extending a tenure with the club that takes an entire hand to count.
He's coming back because of belief. More precisely, he's coming back because Carl Craig, the former Minnesota United manager who's taking the helm of City, believes in him.
After Goldman played in the Crows' combine over winter break, he received a call from Craig. Being in demand, Goldman was perched on the fence about where to play his summer ball. But it wasn't this crow-like metaphorical positioning that brought him back. It was "hearing a coach who hadn't really ever seen me play believe in me," Goldman says.
"But also what I really appreciated was that (Craig) understood City, the direction they want to go in, but we want to do it his way, which is a new way," Goldman continues. "And I find that really intriguing and exciting."
It isn't your average homecoming. There's almost an irony to it, and you can't spell irony without the letters R-O-I, which is exactly what Goldman is providing. His belief is reciprocal, a return on investment that dates back to 2018.
Matt VanBenschoten, City's new GM for 2023, has the receipts, from back when he was coaching the club's Under-23 side. The developmental team's roster was full when Goldman reached out, looking for a chance to play. VanBenschoten couldn't promise anything more than an opportunity.
"That'd be awesome," he remembers Goldman responding.
"A lot of guys say that, but don't necessarily, when push comes to shove, actually make that same level of commitment," VanBenschoten says. Goldman was different. He was committed.
"He kept showing up even when he wasn't selected for games," VanBenschoten said, "and just was always there."
It doesn't sound like as much of a leap of faith when Goldman describes it.
"They believed in me right away and gave me a chance," he said.
A year later, Goldman got a chance with City's first team — a chance to play. He also got a chance during the game, a rebound off a poor save that bounced at an awkward height toward his right hip. Goldman got his right foot around to it, got the ball into the back of the net, got the game-winning goal, got the club some early return on investment.
***
Every soccer player approaches the sport a little bit differently. There are mental games, cognitive shortcuts, psychological tricks to uniting the mind and body in perfect technical harmony over repeated 90-minute spans.
For Eli Goldman, it's a numbers game. More precisely, it's a numbers-divided-by-other-numbers-times-100 game, which is to say that he thinks about percentages as he plays.
"If I score three goals, I have five or six in my mind that I easily could have scored," Goldman says. "If I'm only scoring at 50%, to me, that's nowhere near good enough. I'm always thinking about that, thinking about how much it matters to really convert those chances at a higher percent."
It's what comes with playing in attack, a chance-y endeavor dependent on the bounce of an inflatable orb and the caress of your metatarsals and the hand of whatever deity's holy matrimony combines the two. But ask a good forward — like Goldman, for example — how to reckon with that positional volatility, and they'll tell you it's mostly a matter of showing up in the right place at the right time. It's the part of the game that Goldman studies when he watches film, whether it's his own or Arsenal's Eddie Nketiah, his current muse: off-ball movement.
"When I think about a striker who's really good at scoring goals, part of that is just the timing, the space, the intelligence to be open," VanBenschoten says.
That's on Goldman's mind when he's cleated up, too.
"I don't feel like I'm the fastest guy ever or the strongest guy, but if I think just a quick second before the centerback or whoever it may be, I can get that half step on them," he says. "How can you think quicker? What spaces can you put yourself in where you might have a half-second more time?"
Space is part of where Goldman excels, presenting a recurring theme: showing up. It's starting to sound like that 2018 season, when VanBenschoten says the new recruit didn't miss a training session, even with no guarantee of playing time.
"He works hard, he's professional," VanBenschoten says. "The biggest thing with that is everybody can do that at some point and probably does do those things at some point. The key is being consistent … He always brings 100% — every single time."
***
You probably expect Eli Goldman to have a certain swagger about him, given that scoring goals — and capital-C Celebrating them — in front of thousands of people is his thing. And sure, he's rocking a winter cap on a relatively spring-like New Hampshire Sunday.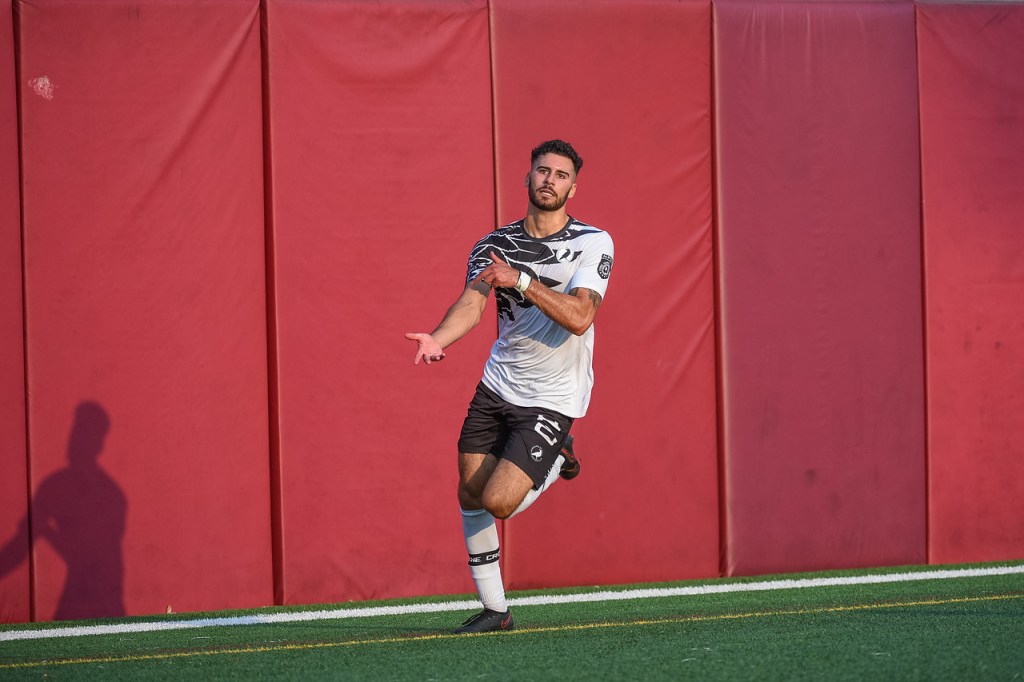 But as he talks about his life outside of soccer, the hat-and-hoodie garb seems to ooze coziness, not cockiness, the sign of someone with some introverted tendencies who happens to also be a confident performer. Goldman is a reader and the type to enjoy bits of green space and alone time. It's connected to his on-field persona in the same way that a gas tank is connected to an engine: One fuels the other.
"I can be my best self on the field when I'm taking care of all the little things off the field, and one of those things is giving myself time to be alone and do the things that I like," Goldman says. "Then when I'm on the field I can be the presence that I want to be … that always translates."
Irony, once again: Goldman talking about his presence, a personality that his teammates rally around, that seems to take root in his presence, his persistent attendance and existence in City's black-and-white-and-sometimes-pink kit. As Craig's recruiting pitch undoubtedly conveyed, both of Goldman's presences will be valued over the course of the 2023 campaign. But it won't be without challenges: The new coach promised the standout returner open competition for playing time.
"That type of competitive nature is exactly what I think City need at this point," Goldman says. "With Carl, no one's going to be comfortable."
It will be Goldman's element. "I love it," he says of the battle ahead.
Perhaps it's reminiscent of those first training sessions with City's developmental unit, when Goldman found other players to be better and faster and stronger — "the exact environment I wanted to be in." Goldman succeeded in that environment by showing up. He's learned when to show up behind a centerback's shoulder, too, and when to show up for himself.
On the ball, off the ball, on the field, off the field, Goldman has refined that presence. So maybe there wasn't really another option for him. Maybe he was always going to return to Minneapolis City.
What else did you expect? Eli Goldman always shows up.