On the back of a breakout 2022 season, Minneapolis City star Loic Mesanvi signed a contract with Minnesota United.
Mesanvi joined Minneapolis City's Futures Program in 2020. Though a relatively unheralded player without an 'elite' youth club on his resume, Futures Director Jeremiah Johnson recruited Mesanvi to the program. "Loïc joined our Futures program with a bunch of raw talent" said Johnson. "It has been fun to watch that talent be nurtured by all those that support him and push him to make magical memories. It takes years of under-appreciated hard work to play a high level. The sky is the limit for Loïc. I'm thankful that we are fortunate enough to be part of his soccer journey."
"The Futures staff puts in the work" said club co-founder Jon Bisswurm. "They are in the community, they are going to high school games, to ethnic league games, working hard to make sure that we are living up to our mission of helping Minnesota players from all backgrounds elevate. They find players who otherwise would be overlooked. Loic was being overlooked. Not anymore."
A strong Futures season turned into a stronger high school season. Mesanvi was the East Metro Boys player of the year in 2021.
Mesanvi made his senior debut for the Crows in the 2022 U.S. Open Cup first round match against Des Moines Menace. Just 18 years old, on his debut, and facing a defending League Two national champions side filled with experienced pros, Mesanvi was unfazed. He gave defenders fits all night and capped his performance off with a darting run and emphatic finish. Leveling the scores late in the second half of an Open Cup game is quite the way to introduce yourself to the fans.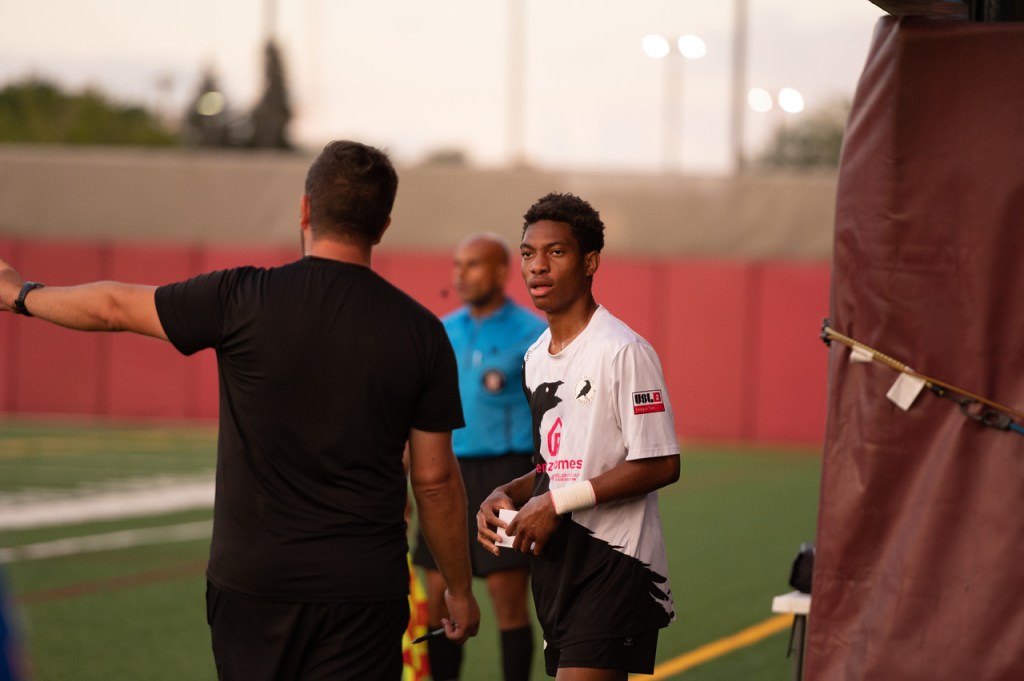 There was not a whiff of one-hit wonder about Mesanvi.
He scored a brace in his first UPSL game with the Futures, going on to score six goals and record an assist in just five appearances with the Mini-Murder. He tore up the NPSL, too. His first few appearances were off the bench as he integrated into the senior team from the Futures and, for a time, was averaging over three goals per game. He finished the season with six goals and two assists in just eight NPSL games.
Mesanvi finished the season as a key man for the League Two side, an incredible progression for the young forward.
"We pride ourselves on creating a platform for young players to elevate" said club president Dan Hoedeman. "Every year, you see guys who force their way into the team and nothing makes me happier."
In a difficult first season in League Two for the Crows, Mesanvi scored two goals and provided one assist in six appearances. His tally included another goal against Des Moines, a glancing header that showed his ability in the air as well as on the deck. That brought him to 15 goals and four assists in just 20 appearances for City this summer.
No wonder Minnesota United came calling.
The Loons had kept tabs on Mesanvi's progression since his breakout performance in the Open Cup, taking advantage of their proximity to scout him in person in the home game against Thunder Bay. They liked what they saw, and who can blame them? They signed Mesanvi to an Academy contract and have had him in the MNUFC2 team in MLS Next Pro since he joined up.
Sporting Director Adam Pribyl said "It's been an absolute pleasure to watch Loic start with the Futures program and through his approach in training and natural gifts, develop and progress through the various levels in our system. This year was Loïc's coming out party. His goal in the Open Cup was a signal to the first team technical staff that he was more than ready to make the jump, and he cemented that sentiment with incredible output in both the NPSL and USL. I have no doubt that if he continues to work hard and stay focused on improving every day he will have a successful pro career in front of him."