MINNEAPOLIS — Last summer, Peoria City, in its inaugural season, finished second in the Deep North Division and qualified for the League Two postseason. Minneapolis City SC managed to take a lone point from three meetings with the Flying Carp. This year, RKC (Racine Kenosha County) Third Coast looks poised for an impressive debut season of its own after notching a confident victory over the Crows in its first competitive match.
RKC scored four first-half goals off the counter en route to a 5-3 victory at Edor Nelson Field on Saturday. That offensive output took the joy out of an Eli Goldman hat trick for the hosts. Messers Vondryska, Cenek, Kaiser, Cox and Floriani each found the scoresheet in that order, with Cenek's 25-yard, top-corner strike the best of the quintet.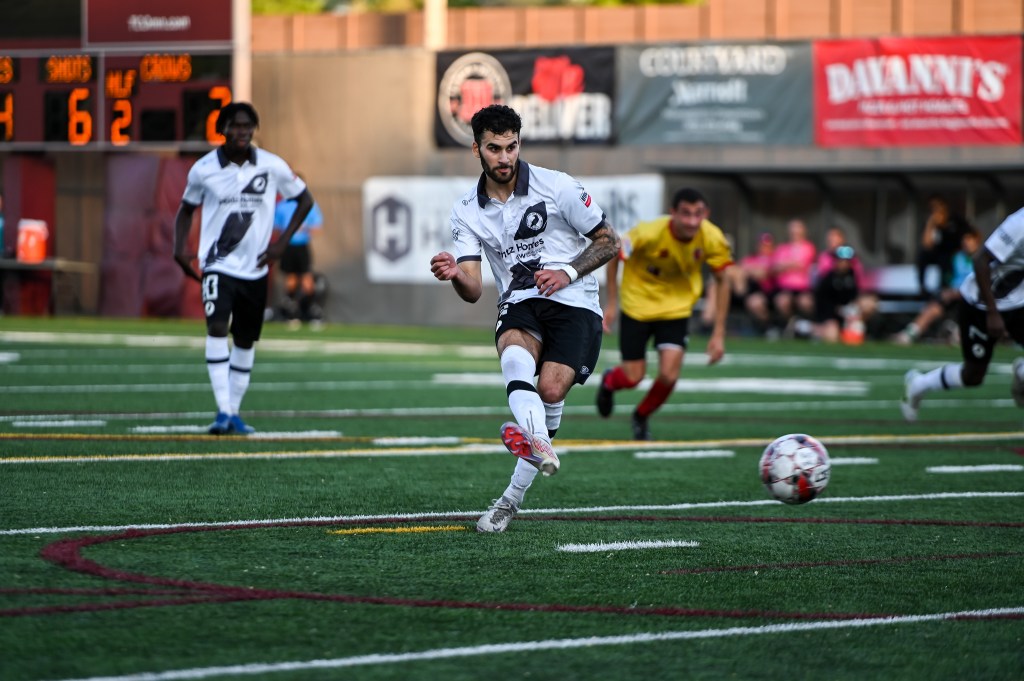 "The second one was a banger," said Minneapolis head coach Carl Craig. "We should have got closer to the guy, but it was an absolute banger."
Not only was Cenek's goal a wonderful individual effort, it also occurred in just the eight minute.
"When the second one went in I looked and I said to Peter [Rivard], 'I'm a bit concerned, here,'" recalled Craig. "We showed that we're willing to battle. Simple as that. That's a major positive. You've got a foundation. You can go that way. You don't have that? We'll struggle. So, at least we're gutsy."
Stealing the ball off an RKC defender in the attacking third, Goldman lifted the Crows back into the game, snapping a narrow-angle shot past the keeper and inside the far post. Following a third RKC goal when City was caught in transition, Goldman created a near-replica of his first goal to again pull the Crows within one.
"I saw their heads drop after the second one, a bit. This is a test of character, here," said Craig. "We went back at it. They get up to 3-1, we cut it to 3-2, and then we take our foot of, again, and let them in once more."
A counter that produced an excellent save by Crows keeper Oscar Herrera also birthed a rebound that was circulated and lashed into the Minneapolis net by Cox in added time. Trailing 4-2, the hosts needed to shore up their defense at the half.
"Coach got us together at halftime in the locker room and he just basically told us we need to get our lines tighter — our midfield and defensive lines tighter together — because there's too much of a gap, there," said center back Griffin Gyurci. "When the ball would go past our midfield line, we would have to drop off, and couldn't have anyone step. So, they would have the chance to counter.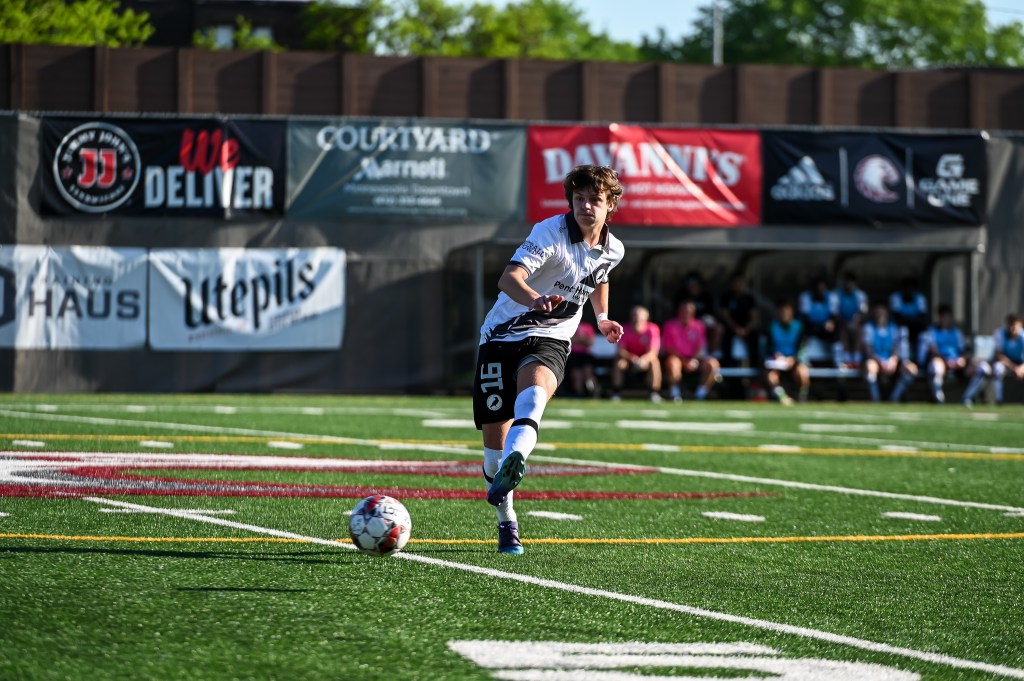 "We kind of locked that up more in the second half. We saw our wingers tucking in more, our center midfielders staggered but sitting in front of us, as a defensive line. It's not too far away from us, not too close to us. I think that really helped."
It would be dishonest to claim that RKC did not threaten City on the counter in the second half. But the lone goal conceded by the Crows after the break came from a corner kick headed home by the 6-foot-2 Floriani.
"To be fair to RKC, three-goals ahead they took their foot off a bit. But we came back, went at them again, you know?" Craig said. "Some decent chances in the end, we might have got a draw from it. To be fair to our lads, where they took their foot off, we stepped up again to try and get those extra goals in."
A night of sweat and tenacity from Crows' winger Shea Bechtel nearly produced a goal in the 86th minute. Bechtel capped a fine run with a hard-hit shot that shook crossbar. When a foul resulted as the two teams fought to control the rebound, Eli Goldman completed his hat trick from the penalty spot.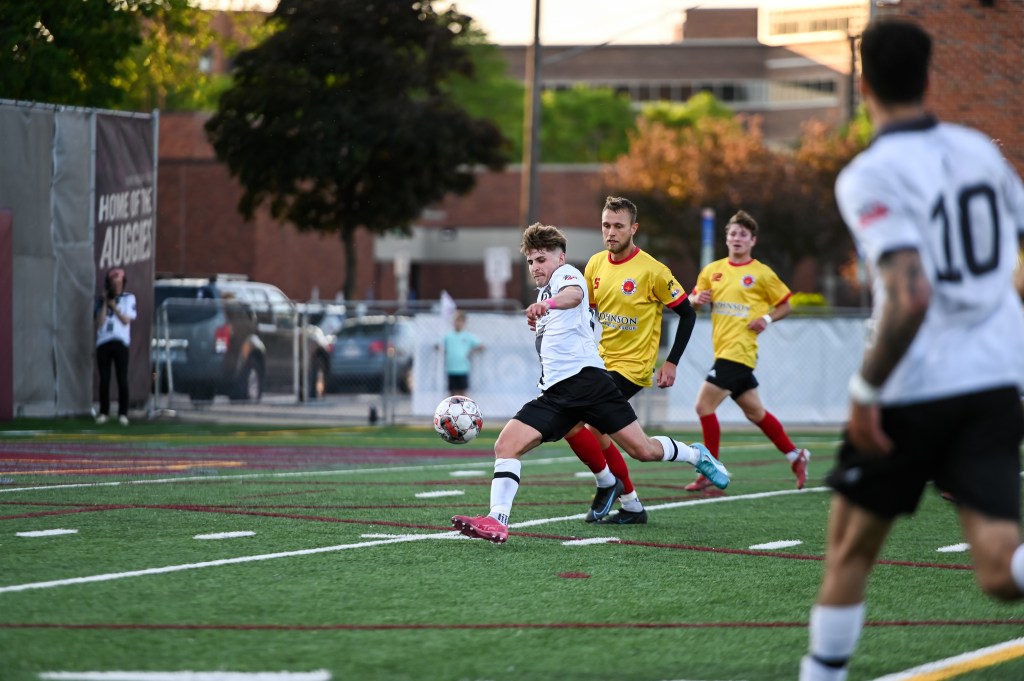 It marked the seventh hat trick in Minneapolis City history, the first for a Crow in League Two, and the most-recent since Brandon McGarrity and Justin Oliver each accomplished the feat in a drubbing of Dakota Fusion on July 7, 2018.
"He's a baller. I have a lot of respect for Shea," Goldman said. "He's really good at coming underneath, cutting in. I love the way he always tries to find me on the weak side. And he just puts his head down and works. Hasn't complained about a thing. I admire that, and honestly, try to take a bit of that work ethic for myself."
"Two cracking wingers we've got," said Craig of Bechtel and Goldman. "We've just got to do better getting the ball to them. They're going to be major pieces for us."
The Crows continued to push for more goals. But up two with just minutes left to play, Third Coast had already earned the privledge of closing out its first-ever victory in comfortable fashion as the deserved winner.
"This is a good side that just beat us tonight; some quality football players in there," said Craig. "Regardless of where you go back to, if this is the conference, then this is what we've got to live with.
"It's not a rude awakening for the lads. I think it's a great eye-opener, because I have to think they're not meeting teams of that quality on a regular basis. And therefore, they'll get better from it. It will either crush them or they'll get get better.
"I hope that's the highest level in the league, because they were good. They've got stuff. If not, well, we've just got to be ready for it. It's the loveliest thing, for me. You see who's what, what's there. It gives me more information for next week."
Shiny Things
Goldman's hat trick was all the more impressive given the veteran did not train during the week in deference to a nagging quad injury. "It affected me against St. Croix," said Goldman. "It felt good to finally feel it start to leave the mind during the game, for the first time." Craig added: "He's had a tough week as he's trying to overcome, not just physically, but in his head, these annoying injuries. I think that [hat trick] puts all that nonsense to bed."
Craig spoke postgame about how he approached halftime adjustments, with an eye towards fostering a greater understanding among his players. "It's not me style to drill them because I want footballers to play football," said Craig. "The problem is, you do drills, I can get this solid structure, but then to you have to move out of it. If I set up two lines of four, and a line of two in front, give them trigger points and stuff to move off, that's fine. But what do the rest of them do, now? I can't prepare for everything, so I have to teach understanding, right? Close the gaps, deny penetrating options, limit the options from the ball-carrier, etc."
City conceded from a corner for the second-straight game, and for the second-straight game, faced an opposition that was physically bigger, on aggregate. "It doesn't mean we cannae stop them. So, we're going to put blocks on these fellows," Craig said. "We've got to stop these blokes getting to it. We've just got to be, pardon me language — I'll not swear 'cause of the lads — much more ruthless. But, with asterisks and an emphasis on more."
Though results have yet to leave City players in good spirits, the Crows remain buoyed by the club's supporters. "Hearing them chant in the 75th minute when we're down 5-2 inspires me," said Goldman. "I heard one guy yelling to me to keep the guys' heads up. That's inspiring. Just the fact that they keep coming. Even in our team talk before the game, Jonah [Garcia] brought it up; this is our 100th [club] game and the Citizens have been there the whole way — let's try and fight for them. Obviously, it's tough. We want a result just as badly or more than them." Gyurci added: "We understand how much this means to them; as much as it means to us. I think once we get some chemistry down, it will be a lot more fluid, and we'll give the fans what they want."