Editor's Note: All quotations gathered from observers and participants have been reproduced accurately from audio recordings.
MINNEAPOLIS — Minneapolis City SC had taken the evening's first lead in the 27th minute, via another Steevie Lamarre fox-in-the-box goal. Seven minutes on, Duluth FC's Manny Morales was dribbling in from the flank on the pointy-end of a BlueGreens-counter. The winger found himself bracketed by Crows defenders Andrew Soczynski and Wes Lorrens as he drove to the end-line.
City goalkeeper Evan Siefken — as it seemed to him the double-team had closed off any dangerous passing lanes — positioned himself to defend a narrow-angle shot at the near post.
"Andrew had cut off the back-pass," Siefken would later recall, "so I thought [Morales] was coming right to me. Tried to come out and cut off that angle."
Anticipating that he was to face an immediate threat, Siefken went down to a knee, a yard or so from the ball. Making himself big to take up most of Morales' shooting angle, the keeper trailed his left leg in case the impending shot was aimed for the far, lower corner of the goal.
Morales had patience and other ideas, and inches before going out of bounds, slow-slipped the ball back-through a forest of legs, into a meadow of green space, just as his teammate, Rory Doyle, had entered the clearing.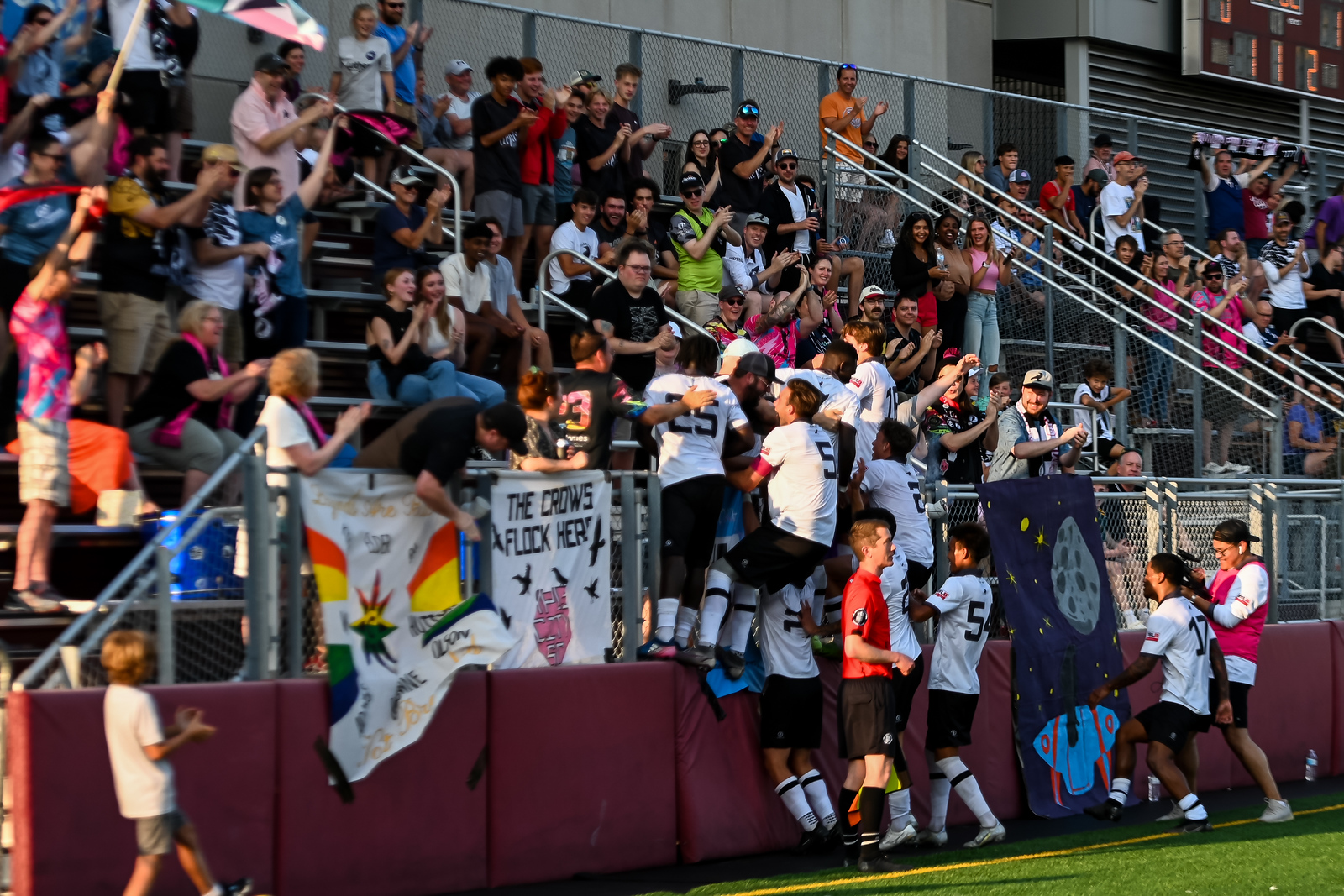 Scene: Minneapolis' keeper is two full-steps wide of the goalmouth. A Duluth midfielder, through dint of dally, has more-than successfully timed a late run. The latter is rushing in from the edge of the penalty area, and no one on the field is close enough to intercept him before he falls upon an imminently-strikable ball. The trajectories of midfielder and said-ball are set to meet just outside the six-yard box.
The successive acts of springing to his feet, and snapping around to face the play, scarcely even registered in the keeper's consciousness.
Then, he picked up sight of the ball, and subsequently, Doyle.
"There's times, playing goalie for so long," Siefken reflected, "it almost feels like you're in slow motion."
Straining against an immediate and agonizing shift in his perception of reality, with disaster looming, the 6-foot-4 Siefken dropped his shoulders in the direction of Doyle, to build the tiniest amount of initial momentum. Being rather tall, that simplest-contraction of core muscles seemed to take an eternity.
As, even under normal conditions, synapses in the human brain can fire at a rate of up to 200-times a second, the movement left ample time for the shaping of thoughts into an internal monologue.
"Oh, shit. I gotta get back in the goal," thought Siefken.
While the tempo of his footsteps remained a frustratingly-consistent largo, Siefken was at least able to grow the length of his initial strides bit-by-bit. Not that he could hear any of those steps land.
Circumstance had rendered hearing of next-to-no utility in the frighteningly-undefined moment, and it was jettisoned. Siefken was alone, as if afloat in a life-raft amid miles of open water, with no knowledge of how long rescue would take. And that particular sense was a passenger with nothing to offer the others in terms of survival, while the rest were rationing food. Overboard it went.
His breadth of vision also narrowed, irising in, like a scene-transition in a silent movie. Not all bad, though. He could still differentiate colors. If he failed in his effort to preserve his team's lead, he at least had the phyrric-comfort of keeping one-up on the bulk of Fritz Lang's work.
The large crowd that had come out to see the Crows take on their longtime rivals, Duluth, in a high-stakes cup tie, faded away. Siefken's mind began to wander. He thought back to City's pregame talks ahead of the match.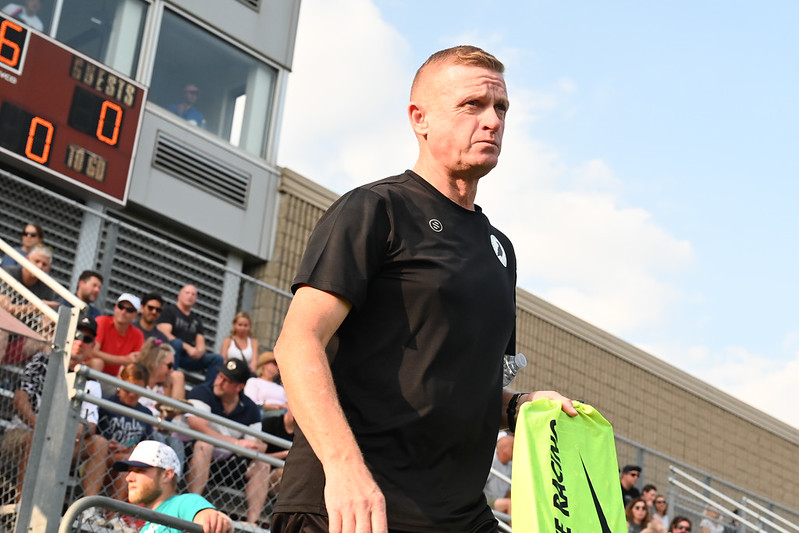 Unbeknownst to Siefken, head coach Carl Craig had returned to the locker room a bit unsettled. Warmups had been sloppy and a bit disinterested, and the experienced coach had seen similar translate into dull performances for other teams in his past.
Knowing how important the game was to the club and its supporters — "Middlesbrough, Sunderland and [redacted], all put together," was how club chairman Dan Hoedeman had put it to the Geordie — Craig was especially relieved, after saying his own part to his players, that veteran Aidan O'Driscoll stood up and added his own two cents.
O'Driscoll had taken issue with how relaxed the atmosphere in the Minneapolis locker room was. "This is going to be a war, basically," he told his teammates.
The keeper recalled how quickly the mood had changed, as he and his teammates began to ready themselves for battle. It was the type of moment that would never show up in a box score, but had as profound an impact on the game as any goal, steeling City's resolve for the events ahead.
Meanwhile, outside Siefken's head, Doyle continued his patient but unrelenting approach, unimpeded, toward the ball.
Siefken was now coming up on the near post, as well as his teammate Griffin Gyurci.
Minneapolis' trailing-centerback, after mirroring forward Tom Akinola's near-post run, and then sprawling to try and block Morales' pass, was only in the process of picking himself up off the ground.
Siefken would have to split the difference between Gyurci's rear and the frame of the goal. And the defender's still-outstretched left-leg, heel to the sky, required navigating. As Siefken's luck would have it, Gyurci's Achilles-tendon looked to be in-stride.
This was a disappointing setback. It offered two courses of action, neither optimal.
The first was to sacrifice Gyurci to the task at hand, and for Siefken to bring all of his 210 pounds, dispersed across a few studs on his right boot, down on Gyurci's ankle. It was the most efficient route to regaining his position. But Gyurci was a likable teammate, and Siefken thought the measure too extreme. Also, Craig would surely prefer to save his three substitution-stoppages for the second half.
Resolved against the former, Siefken was forced to alter his gate, which took long enough to accomplish on its own. Then, a small hop, making sure he lifted his feet up off the ground to avoid Gyurci, left him suspended in mid-air.
The pause was mild compared to the one that Gyurci, himself, would encounter later that evening.
Through its own fault, Minneapolis had gotten into a bad position in the 67th minute, by conceding a free kick just outside its own penalty area and centered in front of goal. Earlier results in Minnesota Super Cup group play meant that the Crows would only advance to the semifinals with a win; a draw was enough to see the BlueGreens through. And leading by a single score, City had left itself exposed.
There wasn't anything Siefken could do, in this instance. Duluth's stellar attacking-midfielder, Kostyantyn Domaratskyy, drove his free kick into the postage stamp from a mere 19 yards away. So far as any of the 900-some people at Edor Nelson Field could tell, time was flowing at a rate commensurate with the atomic decay measured by the NIST-F1 (the National Institute of Standards and Technology's cesium fountain clock located in Boulder, Colo.), and Domaratskyy's strike did not want for pace.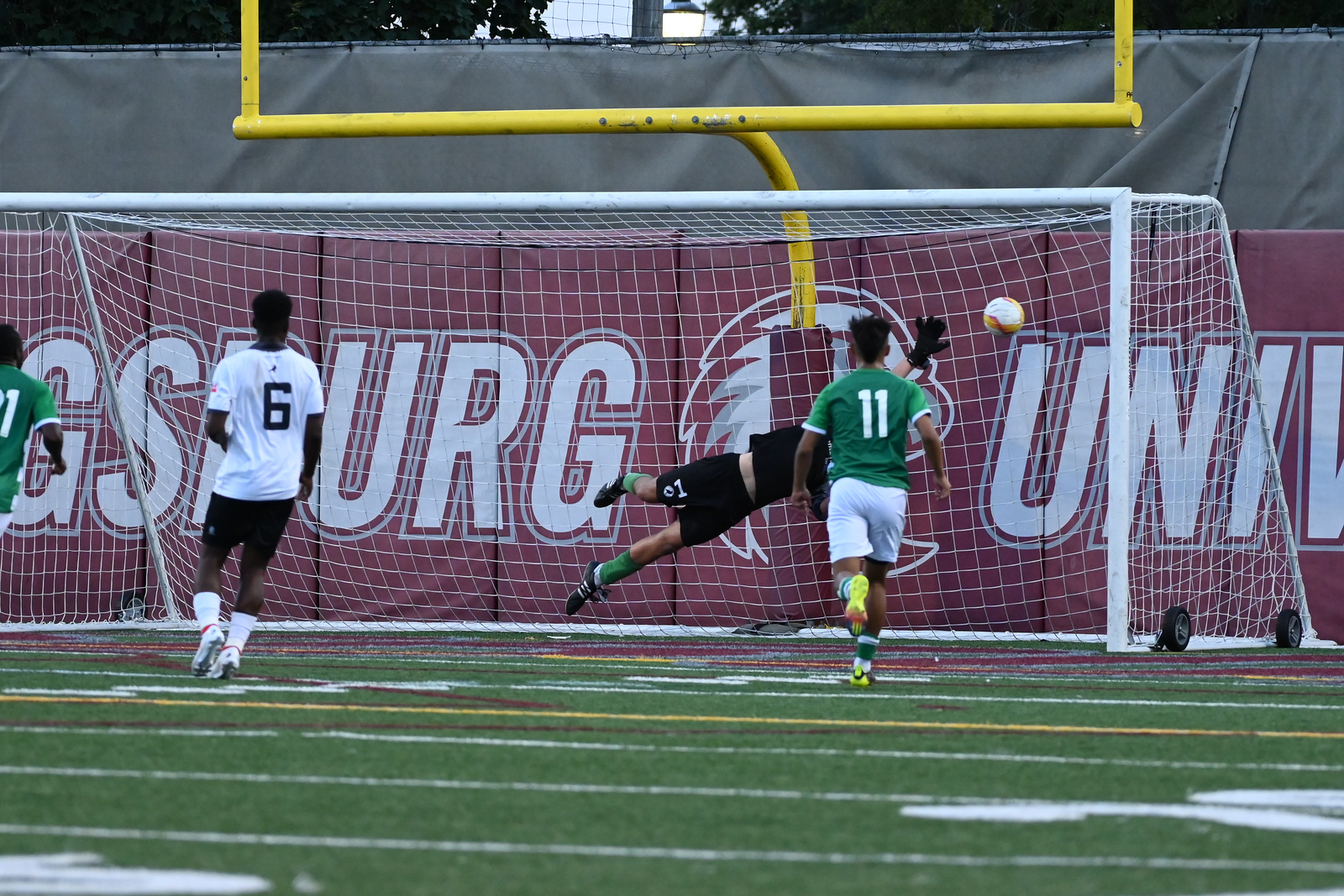 Having missed the USL2 League Two postseason, and now contesting only the cup, the Crows needed to score again, or their season would be over. And seven standard-minutes later, Gyurci would be thrown into his own liminal space.
The identity of the Crow that initiated Tuesday night's second temporal-warping came as a slight surprise to Craig.
"When he's on, he's on, but sometimes he gets caught up," Craig would later say, postgame, of Faydane Ouro-Akondo. "But when he is on, he can certainly produce, and as he showed tonight, he certainly did."
Duluth had come out from the opening whistle on its collective front-foot, and Minneapolis did its best to survive a number of close calls, before growing into the game and notching its first goal. The second half mirrored the first, and the BlueGreens' redoubled-efforts after the break produced a goal of their own. But in response, City woke up, and rallied.
In the 74th minute, Ouro-Akondo got in behind the BlueGreens' back line in pursuit of a ball sent over the latter. Racing to reach the bouncing pass, the winger was brought to ground by Duluth keeper James Price, earning a penalty kick.
After the requisite protestations were heard, the 18-yard box was cleared of all players, save Price. After consulting with Soczynski, Gyurci claimed responsibility for putting Minneapolis back into the lead, and joined Price in the penalty area.
Suddenly trapped in the void with the visiting goalkeeper, Gyurci had to keep his wits as his nemesis sought to take them. The young Crow fought back by psychic means.
"I just kept thinking to myself about where I'm going to go," he would recall, after the ordeal. "I just kept picturing [the ball] going in the back of the net, and just made it a reality at that point. I kind-of manifested it. So, I really wasn't worried about what the goalkeeper was saying. He was trying to tell me to go one way, tell me where he was going to go, and all this stuff. I just stuck with my gut and went to the corner."
A huge roar from the crowd pulled Gyurci away from the penalty spot, and he and his teammates safely over to the grandstand.
"When we scored I heard the noise," Craig said of his own extrication from the moment. "I thought, 'Aw, there ya go!'"
But City's night wasn't done, not yet. There was still an additional player that would find himself in an unexpected spot.
A thankfully-mere five minutes after Gyurci's great escape, a physics-altering pass from midfielder Eric Contreras sprung another set of events in ever-slowing motion.
Indefatigable-winger Shea Bechtel was in hot pursuit of the bounding ball. Perhaps events would have transpired differently, if the soon-to-be junior at St. Olaf wasn't able to leap and head the ball on, to keep ahead of a Duluth pursuit. But he was.
Attacker Dennis Mensah eluded his marker, Duluth captain Jake Starling, with a jump to the left. Bechtel, who spotted the open Mensah, swung a cross in his direction. And Mensah, lining himself up after a step to the right, had gone into the time-slip. It was as if he and the ball were under sedation.
Mensah was waiting, in another dimension, with more than just voyeuristic intention. Well-secluded, at the back post, he saw all.
"Well it was so much time." Said Mensah, while trying to collect himself, "I just… I always just… just like… let's just make this ball go in the net. Make it beautiful."
Ouro-Akondo was shockingly-blasé about the Crows' third goal, shouting in the background of Mensah's interview, "Just another day at the office, man!"
Mercifully, back in the first half, Doyle was finally setting his plant foot ahead of a strike. Siefken had, with dogged-persistence, finally made his way back to the center of net.
"I mean, that's all you can do," Siefken offered, "is try and get yourself back."
Another huge roar from the crowd was echoing as Siefken barely acknowledged left back Carson Pina slapping him in the back with both hands. Siefken's ability to track time was no longer slowed. But now it wasn't even linear.
There was a gap, missing.
He could still feel the weight of the ball on his hands. That sensation lingered. But whatever had occurred in between the save, and finding himself on his feet, watching forward Camel Htoo boot the ball upfield, escaped him.
It was an utterly-fantastic sequence of events, from which Minneapolis City emerged, unscathed.
Duluth FC was not quite as lucky.
Zach Tiemayer was said to have been "sent off" by four men in matching uniforms, who were part of neither team.
In the aftermath of the events of July 18, foreign betters, hopefully terrestrial, flooded Minneapolis City's social-media accounts with direct messages. For whatever motives, the unfamiliar accounts forcefully demanded information as to if another member of the BlueGreens had been "sent off", but this time, even after the game had ended.