ST. PAUL, Minn. — Starting at centerback last Saturday night, away to Sioux Falls Thunder FC in Minneapolis City SC's third NPSL game of the 2022 season, Aaron Olson played in his 58th competitive match for the Crows. With that start, Olson surpassed Will Kidd for most career appearances in club history.
"It means a lot," said Olson, on breaking the record. "When the team started, I was essentially a 90-minute player. The past couple seasons, I've had some injuries keep me on the sidelines. And so, to come back this season and have a clean bill of health, it means a lot to me to have played 90 minutes tonight."
"I'll have to call Will Kidd and tease him about it," added Olson.
Those 58 appearances are a notable total for a defender turning out for an amateur club that has played between 10 and 17 games per year since 2016, and lost its 2020 season to COVID-19. But it may be less notable to coaches and teammates of Olson's who know just how difficult it is keep him off a soccer field.
"Often times the issue with A.O. is that we've had to tell him he can't play in two other leagues," said former Crows head coach and current sporting director Adam Pribyl. "He'll say, 'Sure, whatever you say, coach,' and then you see him out on the field, and you're like, 'Damnit!'
"It was last year, [Minnesota Recreational Soccer League] playoffs, and I'm one of the goalkeepers. I walk up, in the championship game, and I'm playing against Aaron. Minneapolis City had a game the night before. It's in his DNA. He doesn't know how to stop."
That drive to compete appears a constant for Olson, dating back to his youth. Minnesota Thunder all-time leading scorer, former MLS forward and current Minnesota United FC director of player personnel, Amos Magee, recalls coaching Olson when the latter was a freshman at Saint Paul Academy.
"So, he was fearless," said Magee. "He was undersized as a freshman playing varsity soccer. But, his courage, his ability to put himself about the field, and to solve problems with technicality or tenacity, allowed him to be successful."
Olson was not heavily recruited coming out of high school, but earned a varsity roster spot at Division III powerhouse Trinity University. The Tigers reached the national quarterfinals in all of Olson's seasons with the team (2008-2012). In his senior year, Olson was given the program's Timothy Isom Award. Named for the late Tiger player, it recognizes "character and performance, on an off the field," and the recipient is chosen by his teammates.
Returning to the Twin Cities to work as a CPA after graduation, Olson joined up with storied Minnesota Amateur Soccer League side Internationals. When financial difficulties motivated Internationals to merge with Stegman's Soccer Club, it brought Olson into contact with future Minneapolis City SC co-founders Jon Bisswurm, Dan Hoedeman and Nick Sindt. Per Bisswurm, Olson was involved in the discussions around starting a regional amateur team that came out of the aforementioned merger, and was thus a part of Minneapolis City from the team's inception.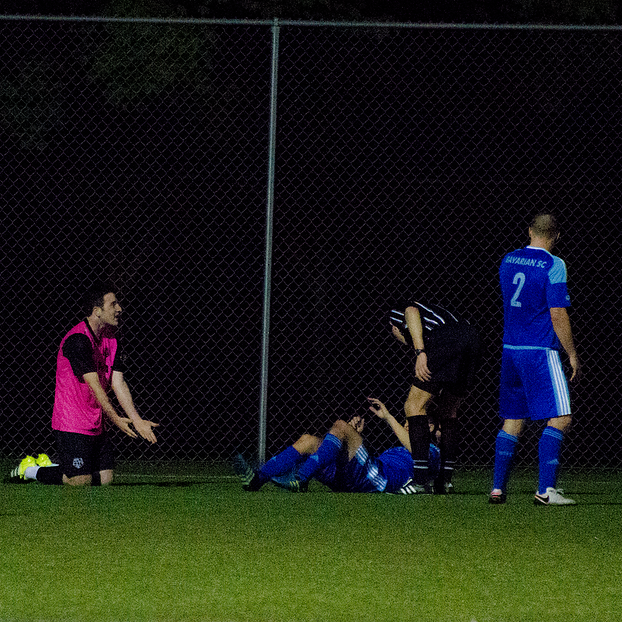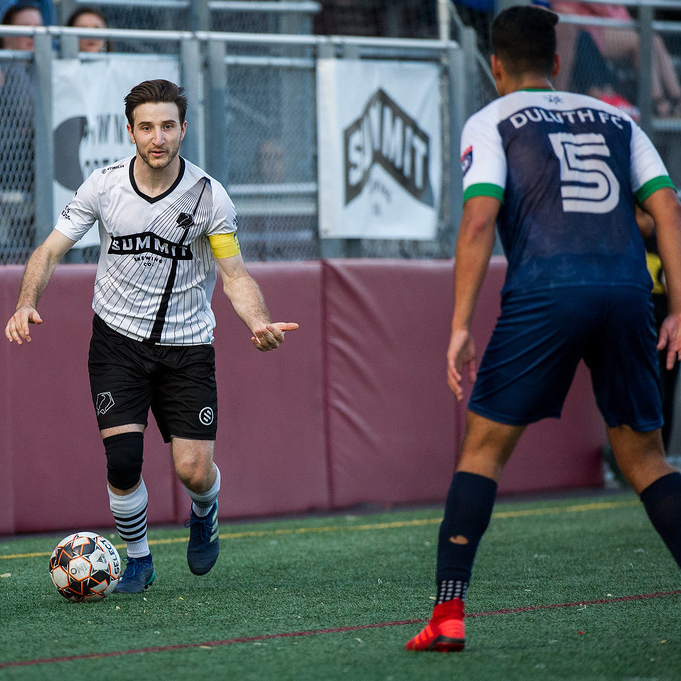 The Crows played their first competitive game against the Milwaukee Bavarians in Glendale, Wisc. on May 21, 2016. Olson started in defense as part of a three-man back line that helped the Crows keep a clean sheet in a nil-nil draw. The following season, he was chosen team captain and would hold that honor, alone, until Max Stiegwardt was named co-captain in 2021. Olson's run as captain would cover three NPSL North Conference titles, including the club's undefeated 2018 regular season in which it compiled a 10-0-4 record.
Now one of three Crows from the inaugural 2016 team that still play for Minneapolis City, Olson shares that dwindling distinction with fullback Abdallah Bah and midfielder Samuel Ruiz Plaza.
"He's the kind of guy that wants to make sure everyone around him is doing what's needed to be done, but he doesn't feel he needs to say a lot," said Bah of Olson. "When you see someone going that hard, you think, 'Damn, I want to give my best effort.'"
Bah recalls a time when both were working their way back from injury. Seeing Olson deal with an older body and long hours at his day job, and still put in as much effort as anyone on the team, made an impression.
Sharing seemingly everyone's view of his 32 year-old teammate, Ruiz Plaza describes Olson as "a grinder".
"Even yesterday in training, my man was literally wrestling with a teammate over a ball. And it lasted — I'm not even kidding — 30 to 45 seconds. They were going at it. They were both on the ground. I thought, 'What is going on?'," said Ruiz Plaza, chuckling.
That love for competition has been viewed as an asset by more than just Minneapolis City. In previous years, prior to the launch of MLS Next Pro and its MNUFC2 reserve side, Minnesota United FC kept Olson's number on a shortlist for those times they needed an extra local player or two to round out numbers during training.
"I knew the quality of his character. I knew that hard work would not be an issue for him. I knew that any technical or physical shortcomings he'd have he'd make up for with effort. Those guys are invaluable, as Minneapolis City will tell you," said Magee. "It was an easy ask for me because I knew what I was going to get from him. And I knew for that particular session or that particular friendly it would be enough."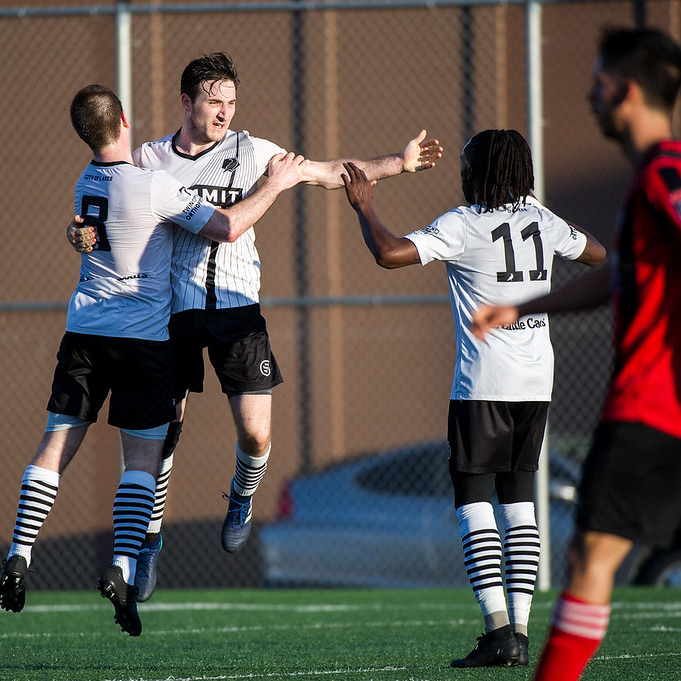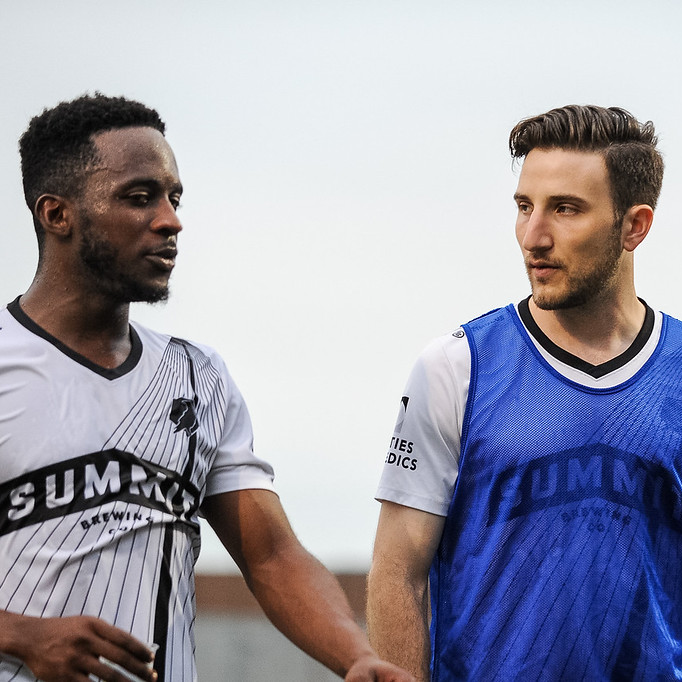 When asking those that know him about Olson, their praise extends beyond the playing field.
For Bah, it was Olson helping him look for a job during that inaugural season, and asking about what he wanted to do now that he had graduated from college.
"I remember when I first joined the team, I was more-so this shy, held-back dude. But Aaron and Matt [Elder] were the first guys to come up to you and want to have conversations with myself — with everybody — and make you feel like you belong," Bah recalled.
Pribyl and Ruiz Plaza both mentioned Olson as an excellent traveling companion on away trips.
"In my opinion, the best people are the ones who are just themselves and don't have to change to impress anyone," said Ruiz Plaza. "He's comfortable with himself and he's fun to talk to. Just an easy-going dude."
Olson's sense of inner peace off the field was of particular help to Pribyl when the later was driving a team van back to the Twin Cities following a game against Med City in Rochester, Minn. Caught in a thunderstorm, Pribyl found himself white-knuckling the wheel as the night's downpour reduced visibility.
"He was laughing," said Pribyl, remembering Olson. "He can make light of any situation and he knows the right thing to say. I always think back to that moment, because I got to spend some quality time with A.O. in what could have been a stressful situation."
As for the present, the Crows are still trying to find their perch this summer while straddling playing in both the NPSL and USL2. Assistant coach Derric Johnson recently praised Olson's form, and both he and Pribyl have said the team will be counting Olson's leadership.
Regarding the future, opinions may differ ever so slightly, but not on Olson's value to the club.
"When you print this, I will say that he's in the twilight of his career, and he'll get pissed at me," said Pribyl. "He just slowing down a little bit. But he'll play until his legs give out.
"I hope he continues to play with City for as long as he can. And when he doesn't, I hope he joins the coaching staff or joins the club in some other role, because it just wouldn't be the same without him."
Asked, in a post-game interview following the Crows' draw away to Sioux Falls, how long he planed to continue playing, Olson set no specific time frame.
"I'll keep going as long as they want to bring me back, man," Olson said. "And as long as my girlfriend will let me."