MINNEAPOLIS — Friday night at Edor Nelson field was many things: the first-ever Minnesota Super Cup game; Minneapolis City SC's home opener; the start of the Crows' 2023 season; a sold-out match; and, a one-goal victory for Minnesota United FC MLS Next. It was both an evening, and a mouthful.
Between the lines, the hosts fielded a gameday roster learning to play with one another, whereas the visitors held mid-season form. The shape of the game followed from that contrast. The Crows grew better as the evening progressed and held the balance of possession, where the Lil' Loons were ultimately successful in relying upon their organization — both in defense and transition — and threatened from quick, decisive counters all night.
"They're incredibly-talented players," noted veteran City midfielder Samuel Ruiz-Plaza. "Although they're younger, they've got good soccer IQ. They're really clean on the ball. They had a gameplan; I thought they executed it well.
"Even though we're coming together for the first game [this season], I think we had chances that we could have gotten the result."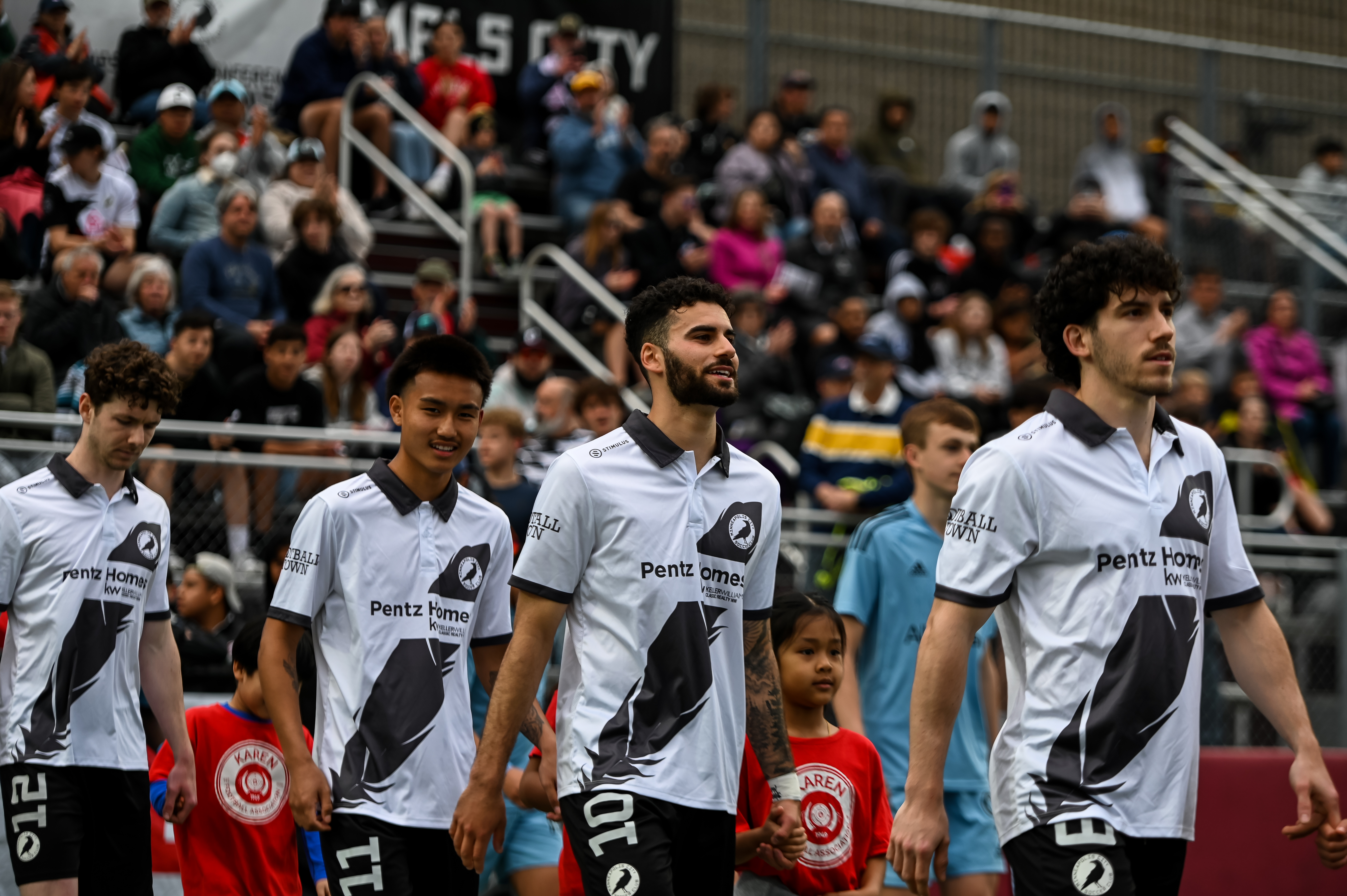 A 20th-minute, low cross found the hands of City goalkeeper Ayuub Ahmed, the foot of United forward Miguel Leon, and the back of the goal. Fanendo Adi's boys would make that early tally stand up, but not without plenty of since-rued, missed chances from both teams over the remaining 70 minutes.
"We started stepping a bit higher. We started forcing them to play a bit longer. A couple of times in the early-on, I said to them, 'I'm okay if they're playing line drives, we should be able to defend that.' And yet, that's how they got their goal," said Crows manager Carl Craig.
Given how the game then unfolded, the most surprising aspect of it was that it ended just one-nil. Light showers created a fast playing surface, United created a number of chances, and the Lil' Loons sent a handful of shots from inside City's penalty area off-frame.
At the other end of the field, impressive last-ditch defending preserved a clean sheet. Goalkeeper Oscar Herrera followed a double-save to claim a deflection after three Crows' shots resulted from a quick counter in the 72nd minute. And, over the course of the game, United field players cleared a trio of shots off their own goal line.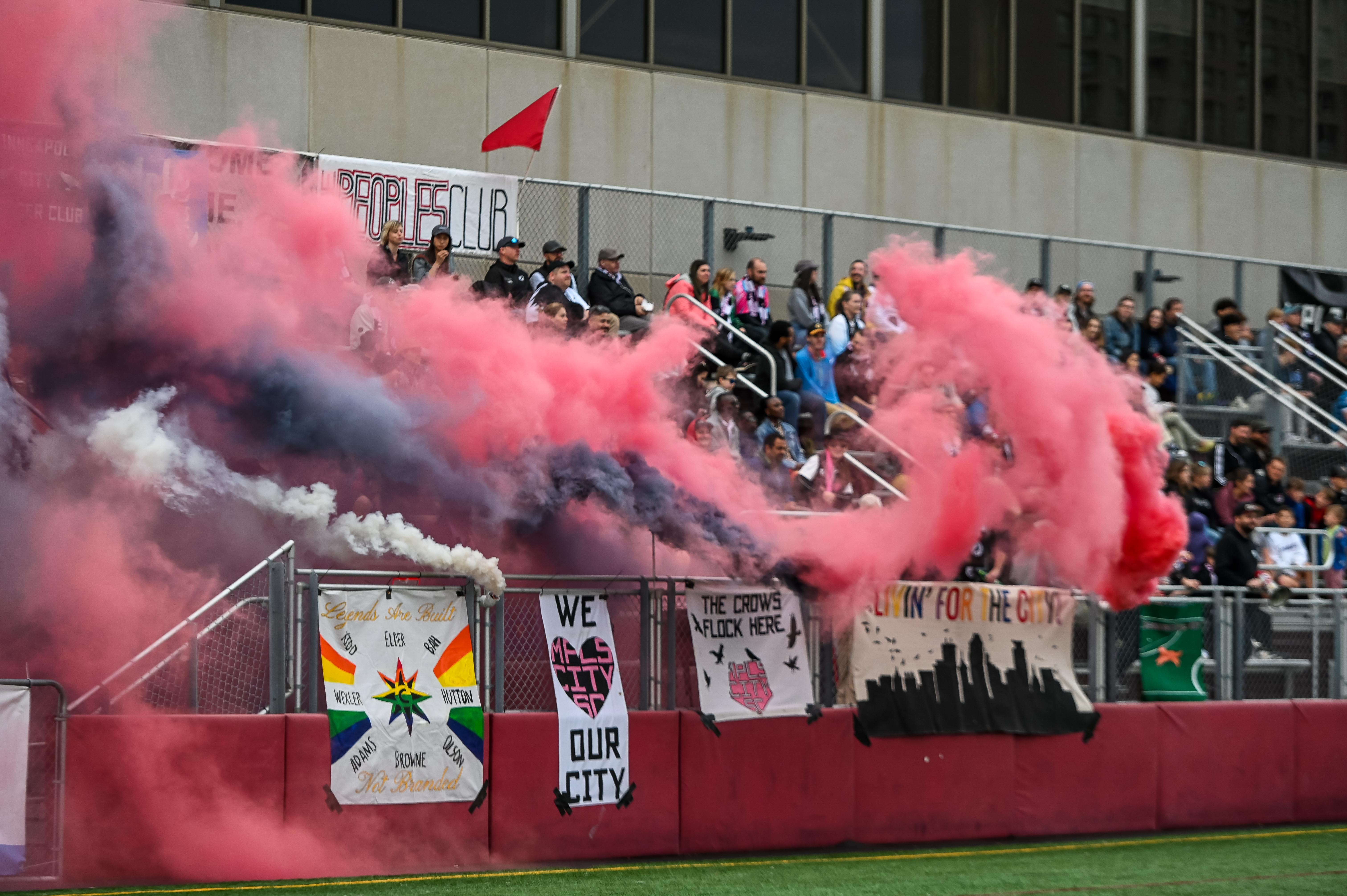 Off the field, the evening was an unqualified success, as a sellout crowd of 1,216 fans packed the stands. From 2018 to 2021, Minneapolis City never had a season in which it picked up fewer than 2.18 points-per-game. In 2022, the Crows logged a club-low 1.00 PPG average. That fans returned, in force, to kick off the summer after last year's frustrations did not go unnoticed.
"It's even more special, because of how our last season went," said forward Eli Goldman, who was voted as the Minneapolis Citizens' player of the game. "It was really a frustrating season. The fact that they still come back, fill the stands, do awards like this, drum for us until the 96th minute, that's telling of what City is. The community in this club is a big reason I wanted to come back and keep playing for the fans, the city, and be at home with my folks."
Looking ahead to Saturday's USL League Two-opener against St. Croix Legends, Craig was optimistic. The knowledge that St. Croix would be in a similar position to City, integrating its returning college players into the fold, gave comfort.
"I met… couple of [our players] came on Tuesday and my training got canceled. We didn't practice that day. This is where it's at," Craig reflected. "[I]t would be ridiculous to say I was unhappy with it. If my sights were too high at this point, that would be ridiculous, as well."
"My last words to them was, 'You can never be happy when you lose, but let's keep perspective.' We did go to win; we didn't. We're all in a different place, now. We've moved a couple of steps along. We've all got a better sense of what we've got, what we can do, and where we need to go to. It's going to be significantly better, next week. I'm confident of that. We've got three training sessions next week and the cavalry are coming, to a degree."
Shiny Things
"Playing here in front of the crowd is so cool. Not having a running track is incredible; you can really feel the environment. You can really feel the fans. So, thank you to everyone coming out despite the weather. It means a lot to me… it means a lot to the guys to see the stands packed."
— Ruiz Plaza on the atmosphere at Edor Nelson field
A number of familiar players were dispersed among the crowd. All-time Minnesota Thunder leading scorer and current head of youth development at MNUFC, Amos Magee, was on hand. So, too, were former City players Miles Stockman-Willis, Loïc Mesanvi, and Rory O'Driscoll. Also in attendance were new Crows, like the contingent from St. Olaf that included Victor Gaulmin and Hakeem Morgan, waiting for their collegiate season to officially close so they can join their new teammates.
Nick Hutton was replaced by Tyler Beaupre at centerback in the 14th minute, after the former injured his hamstring. Of Hutton, Craig offered, "Nick's not gonna let you down. What he might not have in the football sense, he's willing to work it. The attitude that he brings is truly outstanding. He's a solid kid and I said, 'You get fit and come back. Come back, and we'll see where it takes you.'"
Known to have aesthetic preferences for certain positions, Craig was true to his reputation when looking ahead to the potential combination between Morgan and Goldman at the top of his attack. "Hakeem fits the profile of the No. 9, for me," Craig said. "Him and Eli are gonna have some fun, because you've got a post man who likes to play underneath and drop underneath, and then you've got a bloke running off the shoulder. So, exciting days, I think."