by Ian Katan
SAINT PAUL, Minn. — Minneapolis City SC is playing its best soccer of the season. If only it had come sooner.
Some might have worried that the Crows were on track for a second underwhelming League Two campaign, as the team was without a win until its fifth league game of 2023. Sore memories of finishing with 5 points in last year's Deep North Division reemerged when City had exactly that many with two-thirds of the current-season played.
After bringing 4 points back on the bus from Canada over the weekend, Minneapolis added 3 more on Thursday evening, while playing its first-ever home game in St. Paul. A second-straight 2-1 victory over FC Manitoba ensured that the Crows' memories of last season's lone victory were put solidly behind them. Now on 12 points after a late-season burst, City controls its own fate with regards to qualifying for next season's Minnesota Super Cup. Victory at RKC Third Coast on Saturday and the Crows are back in.
"We never gave up," striker Hakeem Morgan said of the turnaround from an early-season rough patch. "None of us went to practice, even when we were on the losing streak, and came into practice thinking, 'Oh, we have to do this again.' It was always, 'We need to get better. We need to train harder. We need to be a team.'"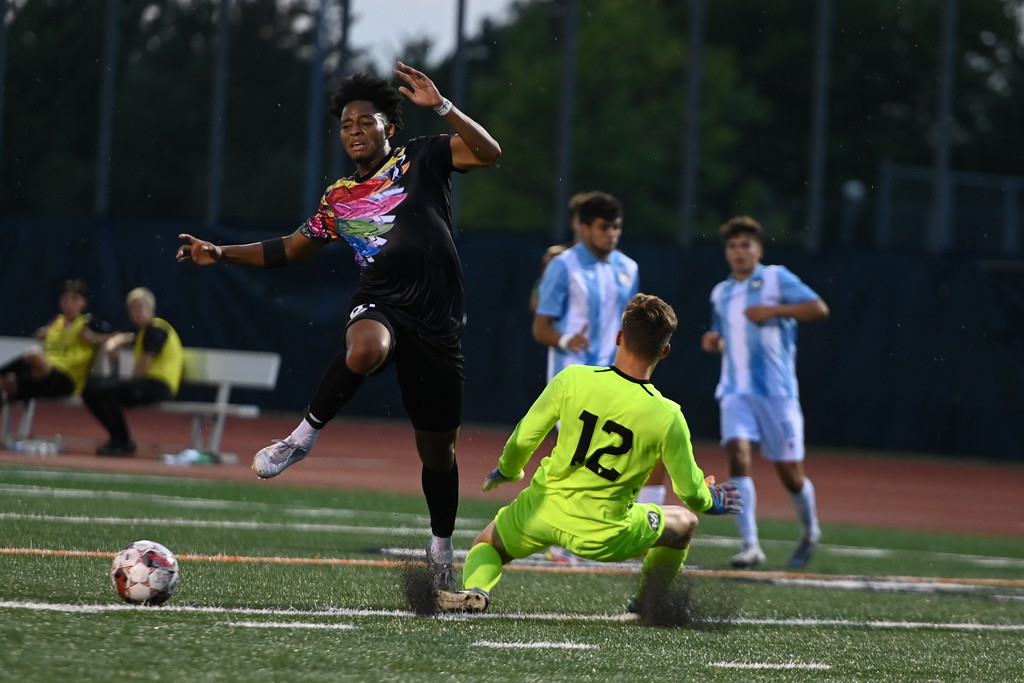 That dedication is finally paying off. From the first whistle of the rescheduled match — moved from June 14 at Edor Nelson field, due to air quality concerns, to the new venue of Macalester Stadium — the Crows' performance was one of their strongest all season. Passes were quick and on-target as the ball flowed around the field, plenty of attacking creativity was on display as shots came one after another, and the Minneapolis side looked comfortable in possession.
"Today, some of it was very impressive. Some of the football was pretty tidy," head coach Carl Craig said following the win. "It speaks to evolution. It's great. I think it speaks to, well, the message is getting across."
After the July 1 draw away to Milwaukee Bavarians, Craig emphasized his frustrations over the impact injuries and player availability had on that game. "The difference right now," Craig explained after his players showed what they're capable of, "is we don't know who's all going to be here, but they know what's expected."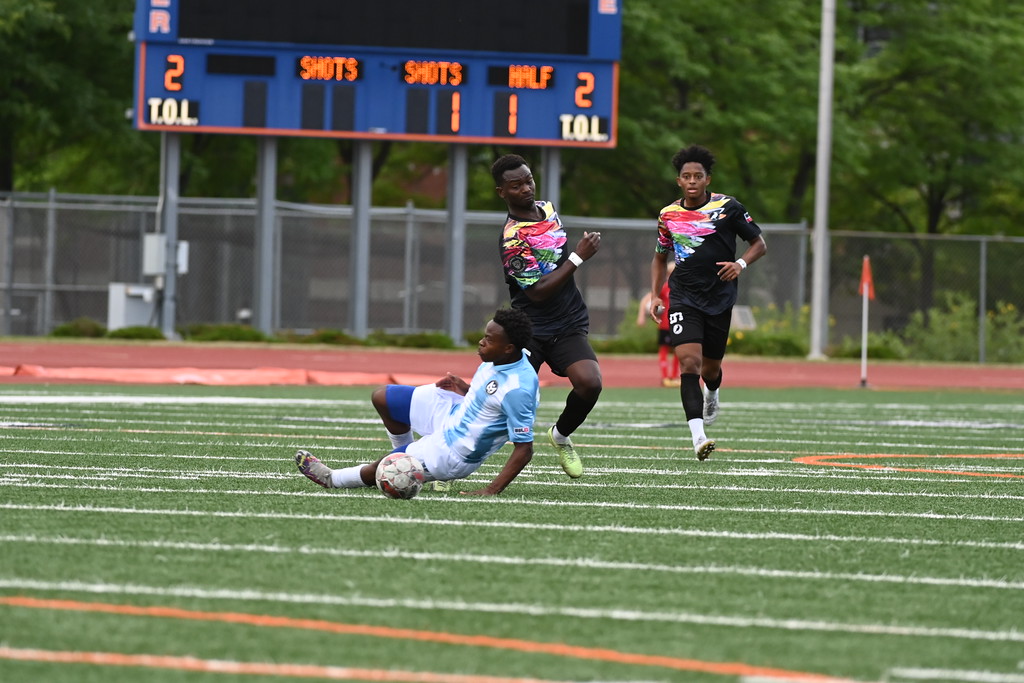 Steevie Lamarre, in strong form after his brace in Thunder Bay, looked sharp in midfield on both sides of the ball, notably weaving his way past six Manitoba defenders and forcing a block in the tenth minute. Morgan also found success off the Canadian's shoulders, making a number of darting runs that ultimately opened the scoring in the 16th minute. Dennis Mensah played a swift cutback for Morgan to latch onto and fire between the keeper's legs from a tight angle.
To get another goal, Morgan said, reassured him that the work put in at training and away from the field is paying off. "It gives me confidence. This level of playing, being with City, has been amazing. And it's taught me a lot about my game, and [I'm] just excited about what's coming."
"It's amazing, this thing called confidence, what that can do for you" Craig echoed.
"The last three games we've played," Morgan continued, his voice competing to be heard by the sound of celebratory music emanating from the locker room behind him, "they've been amazing. We're just playing as a team now. We've just become a family, a team, and it showed today. Like even if you see in the locker room, we're all together. We joke around and that definitely translates to the field."
"Given that we just started playing like this, there's another level we can reach," he said. "Especially next year, we're gonna build from this year to come back next year, even stronger. So there's definitely a lot of good feelings I'm taking from this into next summer."
City's relentless attacks paid off for a second time that half, as winger Darley Florvil collected the ball wide and charged towards the Manitoba net in the 31st minute. A deft stepover shook his marker, giving Florvil just enough room to cannon a shot into the roof of the net for his first goal of the season.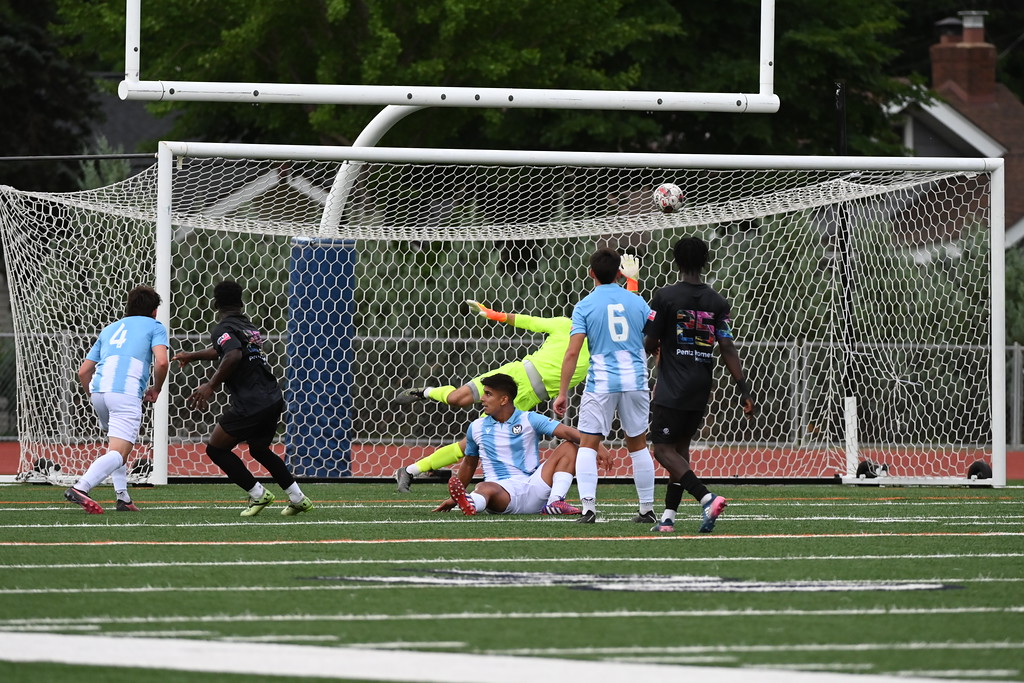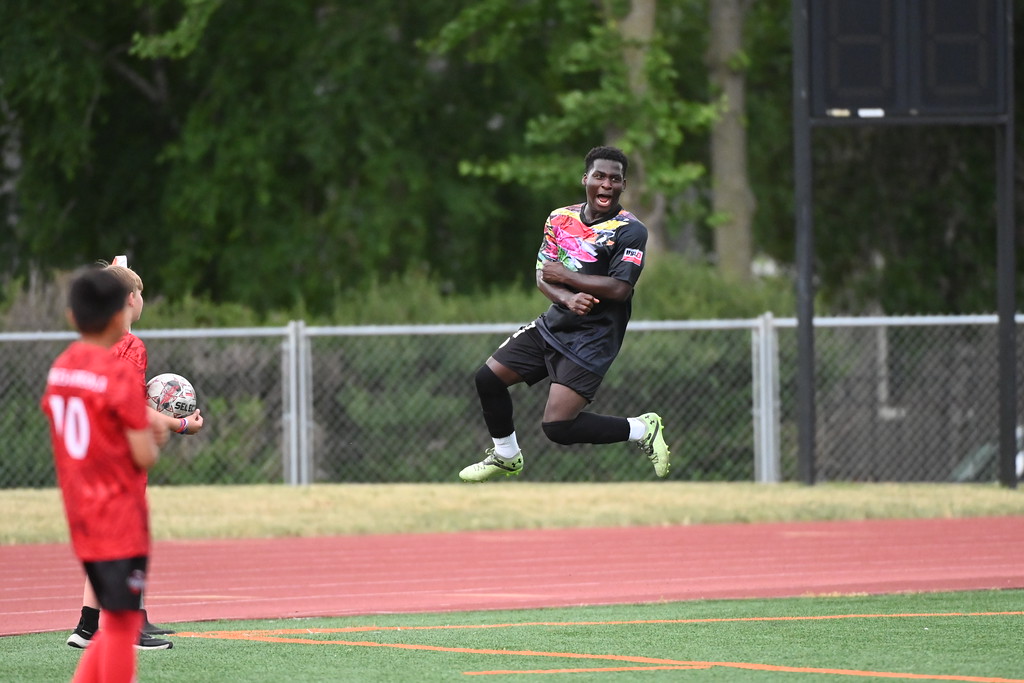 Despite the Crows' effective attacks, they were undone at the other end of the field 10-minutes later. A pass played straight up the middle assisted Diego Reveco, who cut the Crows' lead to one heading into the break.
"Frankly, it was stupid," Craig said of conceding just before the half, the memory of a lead lost against Bavarians in similar-fashion, two weeks ago, still fresh in his mind. "The good thing about this league is if you're silly, or just bad, you get punished. And you know what? That's often the best way to learn."
Following standout first-half performances, Craig took Lamarre, Florvil, and left back Damon Humphrey off at halftime, citing a combination of slightly-loose defensive structure and managing minutes for the changes, amidst a stretch of four crucial games in eight days.
In the second half, the changes were felt, and the Crows weren't able to replicate the same levels of offensive success. "We didn't control as I would've liked to have, a little bit scattery here and there, and then the fatigue's kicking in," Craig said.
The score held for the remainder of a subdued second half, until lightning spotted in the 81st minute forced a delay. The 30-minute timer continued to be reset by new sightings, and eventually passed the 10:00 pm threshold when Macalester's lights automatically shut off, forcing the first early suspension of a game in City's history.
For over 45 minutes, the teams expected to finish the final minutes. "The coaches did a great job of like, not letting us chill out," Morgan said. "We were ready to come in and play the last 10 minutes, right? But it didn't work out, and I mean that's that. We were still ready."
As the feeling in the locker room changed from preparation to celebration, upon hearing the score held and the Crows' would be credited with 3 points, defender Wes Lorrens was presented with the annual Golden Crow award, given by the Minneapolis Citizens' supporters' group to the player that best embodies the club's spirit.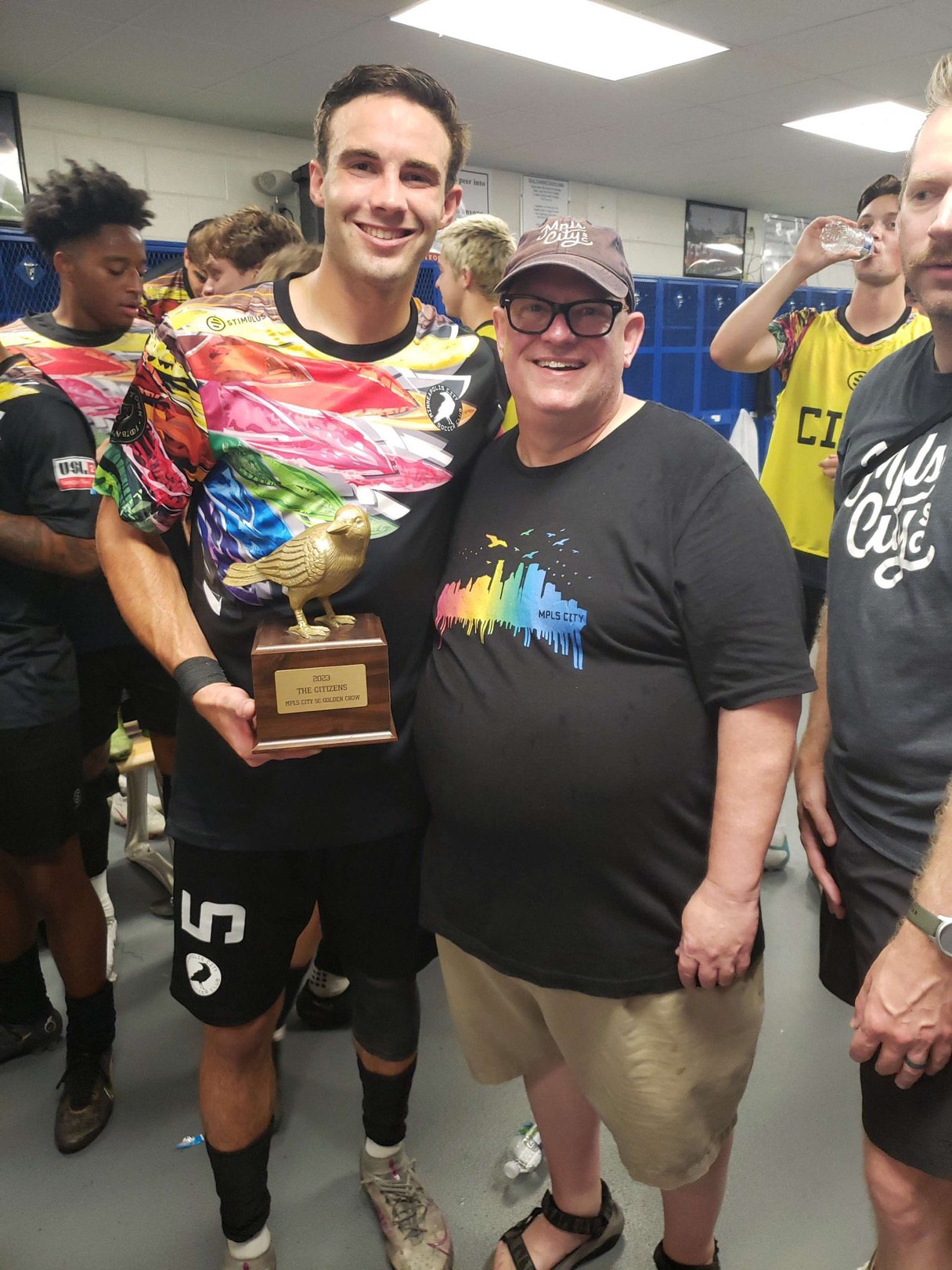 "It just feels like an accomplishment. The biggest thing is being here for three years, like I've just embraced the culture and loved it, and being able to lead this year is especially amazing," Lorrens said. To be recognized individually while also seeing the team playing better than ever was particularly rewarding, he continued. "The record might never show it, but we've become a group of guys that is really hard to beat."
An extra layer to the recognition, Lorrens said, was to earn the same award as City favorites Max Stiegwardt and Matt Murakami. "Stiegi and Muki are just amazing guys. They were leaders when I was here, and Stiegi kind of took me under his wing and grew me [as a player], last year especially."
Although fans, players and staff, alike, wish the flowing and eye-catching play seen on Thursday night had shown up earlier in the season (the same can be said for Lorrens' crow-wing puns), the importance of finding that good form, regardless, is not to be overlooked. Win on Saturday, and the Crows qualify for next season's Super Cup. Win on Tuesday, and the Crows advance to the semifinals of this season's Super Cup. Confidence is at an apex heading into two must-win games.
"It's knowing that we've been doing the right things and we need to still get better at some stuff, but it's just we're a much better team than where we started," Morgan said. "It sets a standard for next year, right? Like the new players coming in, us that are returning, we know what is good form and what good form looks like — so just bringing it back."
"We've got one more [league] game, we're gonna go and win it, and try to end the season on a good note," Lorrens emphasized.
"For us, we're playing for pride. We can't win the league, we know fine-well it's impossible. But we can finish positively," Craig said. "There's a long way for us to go. Upwards. I'd be disappointed if we're on a similar position next year, frankly. We know so much now. As soon as this one's done, work starts."