MINNEAPOLIS — One-goal victories, producing no hardware nor change in standings, decided by goals of moot intent, do not often linger in the memories of players and fans. Nor do season finales amid last-place campaigns in leagues without relegation. However, Friday night's win over St. Croix SC lifted the lid constraining the jubilance shared between Minneapolis City SC players and fans that has been a constant in previous years. The smiles, back-slaps, hugs, handshakes, high-fives and cheers that have been sparse following final whistles — often performed out of habit this summer — returned in quantity and earnest.
There was a sense about the game that neither the team nor its supporters could leave Edor Nelson Field in 2022 without celebrating at least one league win. On the kind of beautifully-hospitable summer evening that gives Minnesotans an appreciation of the contrast of the state's seasons, the team finally delivered on the field. Players, coaches, gameday staff, fans, friends and family members lingered on the pitch, postgame, for a full hour to soak in the mood and the cool of the night.
The 2022 season more-than confirmed for the Crows that competing in League Two was a tall step up from playing in the NPSL's North Conference. The club's decision to use an expanded, single pool of players to contest two league campaigns, simultaneously, only increased the difficulty. Minneapolis' 1-9-2 League Two record is, understatedly, a disappointment, when judged either by the Crows' recent history of success or by the expectations held by City's brass heading into this summer. So too is a fourth place finish in the NPSL North, having never placed lower than third since the conference was established in 2017.
Still, throughout the slog of this season, City never gave up. Players finished matches limping, physically and emotionally exhausted, but never apathetic. Fans kept coming back following successive defeats. In a match-up of teams at the bottom of the division, Minneapolis drew its biggest crowd of the year.
"You can feel energy for the happiness of people wanting to be a part of this club," said League Two head coach Matt VanBenschoten. "Even the win itself is not that important, but how we got there. The fact that guys kept playing hard and we were able to get one, that's the character of the club."
Winning the balance of possession and/or out-shooting the opposition are positives for a team. City, certainly, did not always manage to do so this season. Frustratingly, even when able, a comparative failure to execute in key moments say results go against the Crows. That at last changed.
VanBenschoten volunteered defender Xavier Zengue as his Man of the Match for a defensive performance that buoyed a Crows' back line that bent without breaking. Goalkeeper Martin Sanchez was called upon to make just three saves, and none among his more memorable.
Zengue, who has impressed as a fullback and wingback, missed the three-previous games due to a hamstring injury. VanBenschoten was unsure if he would be available but said Zengue sought him out and told him he wanted to play. He joined fellow wide back Matt Murakami moving inside, bracketing Jonah Garcia as part of a three-man back line that sought to match the pace of St. Croix forwards Darley Florvil and Telvin Vah.
The Legends' best scoring chances came from quick counters, and in a game that could have turned on any of them, Zengue and company performed near-flawlessly.
"It's really difficult. You have to be in constant paranoia about where the ball might go," said Zengue postgame, holding a bag of ice on his hamstring. "You have to be really switched-on. It's just really about focus. That's what we did for 90 minutes, today, and that's why we have a clean sheet."
On the attacking end, City drew on a positive karmic-balance of bounces gone-against for the game's lone goal.
Taking a 40-yard free kick in front of the grandstand sideline in the 49th minute, captain Aiden O'Driscoll sent an outswinger toward Legends goalkeeper Jack Morris' far post. Coming to claim amid traffic, O'Driscoll's effort sailed just over the keeper's grasp and into the top corner of the net.
Turning around, O'Driscoll beamed a smile into the crowd and calmly folded his arms.
"On the record, that was intentional. Ask me off the record," O'Driscoll chuckled. "You hit it in a dangerous area, try to test the keeper, and hope someone runs onto it or it floats in. I happened to hit it well, and it went in."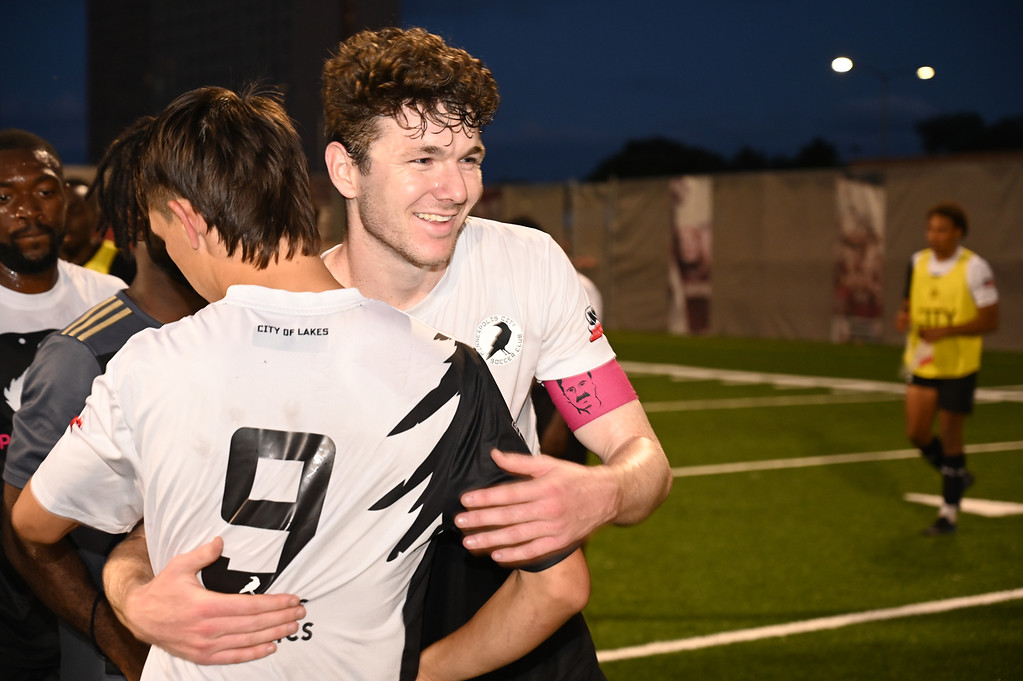 One-hundred thirty miles away in La Crosse, Wisc., the Crows' NPSL side, to much less fanfare, defeated Aris 4-2 to finish the second half of its season with a 5-2-0 record. Playing in front of a spare crowd, the result was a quiet tribute to the commitment of Crows players and coaches.
Brothers Tyler and Justin Oliver, who came out of retirement mid-season to help the club, both tallied goals and assists, playing a hand in all four City goals. Defender Aaron Olson and midfielder Samuel Ruiz-Plaza — members of Minneapolis' inaugural 2016 side — each went the full 90 minutes.
Back in the City of Lakes, supporters group the Minneapolis Citizens presented their annual awards, after the game.
Eighteen-year-old forward Loïc Mesanvi, who has scored 14 goals across three leagues after starting the season with the Futures in the UPSL, was recognized as the Citizens' Breakout Player of the Year.
Murakami, who augmented yoeman's work in defense by scoring four goals on the year, was given the Citizens' highest honor, the Golden Crow. The award recognizes a veteran player who embodies commitment and spirit. In Murakami's case, accomplished during down year for the club.
"It means a lot," said Murakami. "Last year it was [Max Stiegwardt], right? A lot of good players have gotten this. I never really put myself in that echelon, so it feels good. Obviously, would have liked to have a had more team success this year, but pretty happy to celebrate and really just appreciate the support throughout this tough year. Nice to have the fans here and to send them off with a win. Nice to get this as well."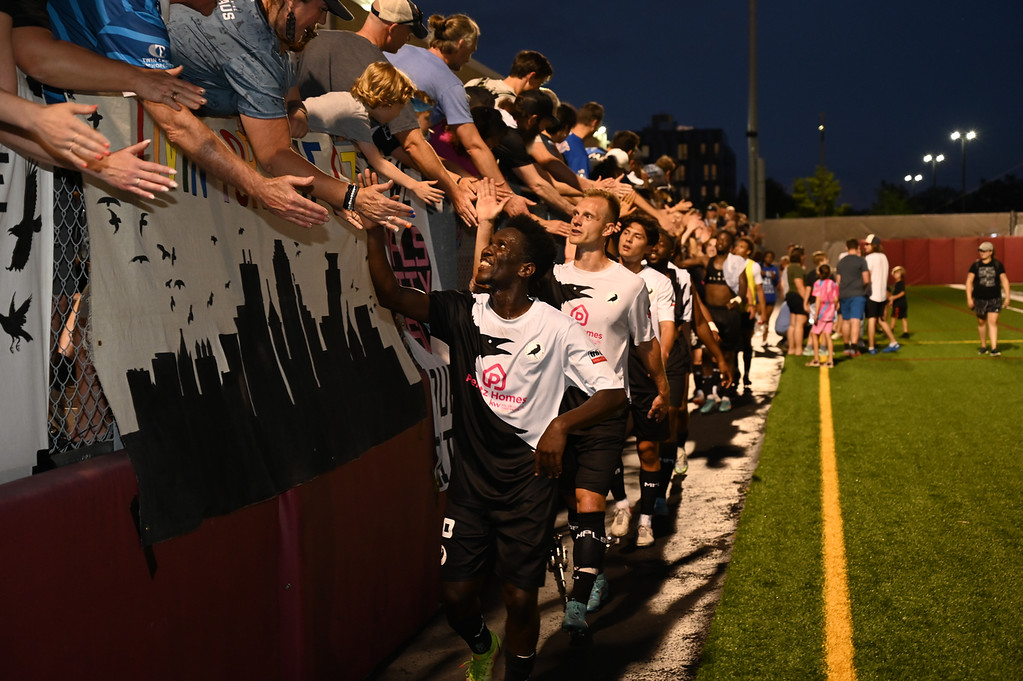 Murakami's teammates echoed his thoughts on the season finale. For Zengue, it was support from City's fans that pushed the team toward the night's victory.
"We felt them behind us. We played really well, tonight, and that was the fans helping us. That support really drove us," Zengue said.
In the final postgame interview of the season, O'Driscoll placed the win within the season's context.
"It's been a tough year, a frustrating year in a lot of ways. And so, to end on a bit of a high was nice," said the captain. "It's a bit of a weight off the shoulders. It's tiring — it's really exhausting losing and not getting results that you want. So let's get the three points, because it's all we can take at this stage.
"There's definitely fight here, and I think there's a lot of talent. We're a capable group when we get the pieces right, and I don't think we got the pieces right this year. You can see it at the end of this year, where there was more of a spine building — the quality was raised. If we get that right next year, the results will come."